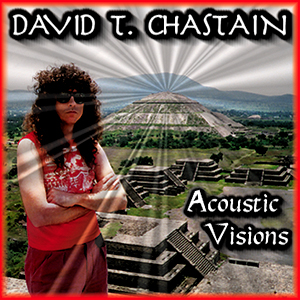 DAVID T. CHASTAIN
ACOUSTIC VISIONS
David T. Chastain, truly one of the most diverse and prolific guitarists on this planet, has once again showcased his versatility on this new release Acoustic Visions. This cd is a true solo acoustic guitar recording. There were no overdubs. One man, one guitar and one DAT recorder.

This 11 track journey goes to exotic musical destinations that David has previously never dared visit. Some of the highlights include the opening track Set. It is a 12 string piece that could be no heavier if it was played by Black Sabbath through a wall of Marshalls. It is hard to imagine a solo acoustic guitar piece being this heavy and at the same time so mystical.

Pyramid of the Sun (as seen on the cover art) is the next track and ventures into some flamenco style influences but still true David T. Some of the more impressive playing on the cd can be found on this track. Tracks 3, 6 and 10, Appassionata Minore, Dirge for Yesterday and STC are some of the more emotional selections in any format that you will ever experience. At times it seems as if the single voice guitar is really crying. Inner Journeys is one of David's personal favorites as it ventures into some eastern sounding sections. The 12 string drone and the lydian major scale really can transport you to another place.

All 11 tracks are very special in their own way. David states "I always found it interesting that people would always comment on how much they liked the acoustic selections on my instrumental cds." "I decided to record this cd after sitting around and playing nothing but acoustic guitars for a month and realizing that this sort of recording has not really been done by a so called rock guitarist." "Let's face it most people expect guitarists such as myself to be playing as fast and as loud as possible." "Maybe this will open their ears and minds!!"

We feel that intelligent lovers of all styles of music can appreciate the tracks on this cd. The abilities needed to play so many different styles of guitar in a solo environment at such high quality and originality is enough to impress even the most ardent music fan.

Acoustic Visions is another formidable accomplishment by one of the most dedicated and original guitarist of our times. With former releases delving in metal, fusion, hard rock, freeform improvisation, classical influenced rock, live and in the studio, David T.'s newest acoustic cd can only help attract more fans to his already dedicated legions around the world.





David T. Chastain Interviews