Chastain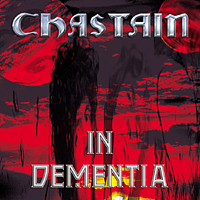 In Dementia
The second Kate French era cd melds together the 4 great individual talents of vocalist Kate French, guitarist David T. Chastain, bassist Kevin Kekes and drummer Dennis Lesh. The group continues it's heavy bombastic sound created on 1995's SICK SOCIETY. David states, "We kept the heavier 90's sound but added more of the progressive stylings from the original CHASTAIN."

Also this is the first time in David's career where all songwriting was evenly split. "I really love what Kate does with the melodies and lyrics and I finally felt comfortable with letting someone take that responsibility 100%," the guitarist comments. "She sings with much more emotion on topics that are personal to her as opposed to the sociopolitical themes that I seem to dwell on." "Plus with her also being an excellent musician, she can understand what is happening musically and make relevant suggestions."

The lyrical content on this new release centers on Kate's views of life, relationships, religion, sex and other things important to her. "You don't really have to go into a fantasy world to find topics to write about in today's demented world," Kate says. "Anyway, we all love, hate and desire sex!"

Whereas SICK SOCIETY was more of a studio project with everyone doing a little bit of everything, IN DEMENTIA is truly a group effort with each person excelling in their own area of expertise. David states, "When we toured for SICK SOCIETY and had Kevin playing bass full time and Kate just concentrating strictly on vocals, everything just fell into place." Make no mistake, this is a group effort and everyone deserves equal credit in the final result.

The band hopes to do an extended tour after the release and visit Europe, Japan, Mexico and hopefully for the first time Brazil. "I really enjoy going to new places and meeting the fans," David states. "I feel this band will be a force to reckon with in a live setting."

The band continues to explore new musical territory and yet still find ways of incorporating the best of the past. IN DEMENTIA promises to be one of the top heavy progressive metal releases for years to come. Simply put; heavily demented progressive metal!!

This release also re-issued with a remastered version in 2013. This Cd is considered the top release of the Kate French era and rates in David T's 2 top Chastain releases of all time....after all who should know better.




Remastered version


Original Cd release at amazon.com



Heavy Metal Mining Company Review
3/8/1999
Alan Gilkeson - your Mining Co. Guide to: Heavy Metal

Chastain- In Dementia (Leviathan Records)
Combine four amazing talents and you have the amazing Chastain. The versatility of guitarist David T. Chastain is well documented, possessing the ability to do just about anything with a six string, while Bassist Kevin Kekes and drummer Dennis Lesh are an extremely talented rhythm team pounding pure aggression combined with a subtle elegance. However, vocalist Kate French really stands out here. Using her powerful Joplin like voice she rips through this nine song set with passion and emotion. French wrote all the lyrics and meshed with her passion you have songs that are meaningful and delivered with such power it's hard not to become immersed in each tune. David T. Chastain crunches through solid heavy riffs, focusing on the riffs more than past Chastain records, and remains one of the truly great guitar players of our time.
This record is a must have.
Standouts: Human Sacrifice, Desperately, In Dementia.

HARD RADIO Review June 1999

Chastain
"In Dementia"
Featuring Kate French on vocals
Available on Leviathan Records

From Axe man Extraordinaire David T. Chastain comes "In Dementia:" Nine characteristically killer tracks of guitar driven, melody saturated crunch, featuring the way In your face'/ who's yer mama' vocals of Kate French. Kate rules on this record. This is a woman born to sing metal. Very big voice here! !! An all around killer album, definitely worth checking out. Every track is ON track!!!