David T. Chastain
"Prisoner of Time"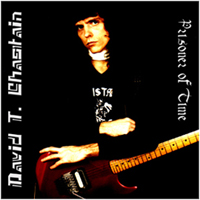 David T. Chastain, along with many other top notch guitarists have all recorded Cds that start out with the same bass and drum tracks. Then each guitarist lays down his own unique and original guitar tracks over the bass and drums. No player hears the other tracks before they have finished with their own Cd. Each player has his own Guitar Masters Cd as well as compilation Cds that has each player playing against the same tracks. It really is an eye opener to hear how each player attacks these tracks.

David T's version of the Guitar Master 2002 series are mostly first takes. He wanted to create a very spontaneous sound.

David states, "I really had a blast on this Cd. Even though the tracks are longer than the first Guitar Master series, this one flowed easier for me. I am really happy with the final results. Nothing is more fun and energetic than a cool jam!!"

Sorry! This title is sold out and no longer available.
David T. Chastain at Leviathan Records



Finally there is a place to get David T. Chastain, Southern Gentlemen, Zanister, Georgia Blues Dawgs, CJSS, Spike and other artists T-Shirts and More! Unbelievable selection, quality and prices! Plus a 30 day money back guarantee. Go to: www.GETROCKGEAR.com