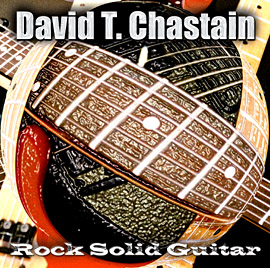 DAVID T. CHASTAIN
ROCK SOLID GUITAR



David T. Chastain is one of the most diverse guitarists that I've ever heard. Though his main groove is a heavy rock grind, I have no doubt that this is one guitarist who can play damn near any style imaginable. From progressive metal to heavy blues to straight ahead kick ass rock, David has done it all. This album is yet another view at the skills and talent of this amazing guitar virtuoso. Rock Solid Guitar has more of a Joe Satriani feel to it than the other albums that I've heard David play on. There is a lot of melody and more smooth harmonies than his earlier heavier stuff.

David has definitely put a lot more soul into the creation of this music. I'm always impressed by what I heard this amazing musician do. The music on this album isn't one of those full blown guitar screamers that you may expect from a top notched guitarist like David T. There is more of a focus on creating music that gives the listener a forgotten feeling or a memory conjuring aura. One still can't help but be impressed by the musicianship found on this album though. This is one guitar instrumental album that every guitar enthusiast must have in their collection.
- Michael Allison - THEGLOBALMUSE.COM
Song Pick: Riding In Style (The tone of the guitar is so cool!!)
****************************************************

DAVID T. CHASTAIN - "Rock Solid Guitar" - LEVIATHAN RECORDS

David Chastain's latest solo effort is almost like an instructional lesson on "How To Play Rock Guitar". Like the title says, it's "Rock Solid" work that shows why Chastain is one of the most consistent players out there. I was trying to come up with a comparison of Chastain's style and then I realized, to his credit, he doesn't have ONE style, everything he does has it's own personality, and this one is slick pickin' strait-forward Rock. I guess if there is a guitarist to compare this to would be the world of Stevie Ray Vaughn.

Chastain has a Southern edge on this project that more than likely reaches back to his roots. He covers everything from the heavier side in "Dancing With The Devil's Mistress" to the laid back "In Memorandum" and everything in between. The first time I listened to the project I was driving down the interstate with the cruise control on 75. This is perfect driving music, it's not too fast and furious that you end up getting irritated at other drivers, but yet it's not so slow-paced that you fall into a calm state of mind. Songs like "Riding In Style" and "Getting A Little Crazy" bring images of the beach or cruising with the top down. Perhaps my favorite is the last cut, "Hats off To Angus And Malcolm" that is a tribute to the bluesier and early days of AC/DC. I really think this is a project any rock fan can enjoy, there's not too much of the shredding for the sake of playing fast, but rather some very tasty fret-work that goes hand in hand with any Chastain project.
TORCH - www.rockhardplace.com
****************************************************

Rock Solid Guitar is another fine addition to David T. Chastain's discography. It is a combination of the theory behind his work with the Cincinnati Improvisational Group and his guitar style from Southern Gentlemen and the Georgia Blues Dawgs. RSG contains David's guitar at its melodic best. While listening to this cd, I can picture David playing while he was recording this cd; eyes closed and his Converse All Star-adorned feet keeping the beat while the guitar lines flow freely and melodically from his trusted red Kramer guitar. Hats off to Mike Haid on drums and Steven Taylor on bass for keeping the foundation solid for this improvisational work. This is one of David's most mature and melodic cds of his prolific career.
Dan Kelleher, WXAV, Chicago IL.
****************************************************

Whatzup
Rock Solid Guitar
David Chastain
by Jason Hoffman

Like most adolescent boys growing up in the mid-80s, I was drawn to superstar guitar players like Eddie Van Halen, Steve Vai, Joe Satriani and Yngwie Malmsteen, technically astounding musicians that could make the guitar burst into flames with a mere touch. There always seemed to be a steady stream of "the next greatest," some hotshot kid on a poorly distributed independent label that Tim at the Wooden Nickel Collectors store would tenaciously track down if you had the money and the patience. One name that often surfaced in these lists of guitar greats, and one that never presented itself when I had available funds or patience, is David Chastain.

Now that the testostertone no longer courses through my veins at levels high enough to grow facial hair on a smurf, I finally have a chance to hear this guitar legend. While it is my understanding that many of his past releases are intense, hyper-fast experiences in shredding, Rock Solid Guitar is nine tracks of good old-fashioned mid-tempo, kick-back-with-a-beer blues-based rock n' roll.

Presented in a bare bones bass (Steven Taylor), drums (Mike Haid) and lone, non-overdubbed guitar (Kramer, as played by Chastain), the nine tracks allow Chastain to showcase his improvisational skills. For the most part, these instrumentals were recorded with little planning, allowing the power-trio to perform as the music came to them. While sticking to the blues-based rock sound, there is still quite a bit of variety. For instance, "Keeper Of Tomorrow" integrates Haid's jazz fusion background with the blues guitar, creating some great opportunities for soloing. "Hats Off to Angus and Malcom" is, of course, a tribute to the music of AC/DC and appropriately is full of bad-boy boogie. Sporting some really great guitar tones, "Riding In Style" is a straight-ahead blues rocker in the manner of Stevie Ray Vaughan. Speaking of Steves, Steve Vai also gets the nod on "Sounds Cool To Me," a slower track that allows Chastain to explore some hard rock territory. And "Getting A Little Crazy," with its "Saturday night in a small club" feel, definitely fits the rock-out-all-weekend-long bill. All told, this sizzling release showcases the talents of one of rock's most talented guitarists with nine hot instrumentals guaranteed to satisfy your rock blues cravings.



Other David T. Chastain releases at Leviathan Records.
"Rock Solid Guitar" promo photos!
David T. Chastain's releases at Diginet Music
David T. Chastain Interviews