John Hahn
"Guitar Master"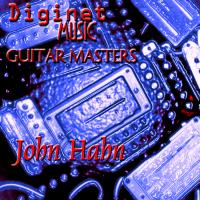 John Hahn, along with many other top notch guitarists have all recorded Cds that start out with the same bass and drum tracks. Then each guitarist lays down his own unique and original guitar tracks over the bass and drums. No player hears the other tracks before they have finished with their own Cd. Each player has his own Guitar Masters Cd as well as compilation Cds that has each player playing against the same tracks. It really is an eye opener to hear how each player attacks these tracks.

John Hahn burst onto the guitar hero scene with his all instrumental masterpiece "Out of the Shadows" in 1992. Ever since then guitar fans of the world have been screaming for another instrumental release.

John's vocal band, Thick As Thieves, released the well received "Rock The House" in the late 90s that of course showcased John's tasty and intense playing. The band has been working on a follow up release for the last couple of years with a 2002 release likely.

In the meantime John has joined up with the Diginet Guitar Masters and released his take on the tracks. It shows that John can still play with the best of them. A must have for all fans of instrumental guitar Cds!!
GET THE CD NOW!!

CD on Demand!




John Hahn at Leviathan Records