DAVID T. CHASTAIN
NEXT PLANET PLEASE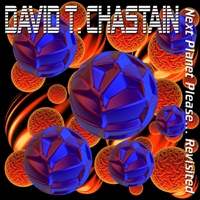 "A feisty metal-fusion affair laced with complex instrumentals and stylistic nods to such jazz rock greats as Holdsworth and Di Meola." Guitar Shop

DAVID T. CHASTAIN, considered by many as one of the most prolific and versatile of today's Hard Rock/Metal guitarists, journeys into uncharted heavens with his Progressive Rock/Hard Fusion instrumental CD NEXT PLANET PLEASE. The album combines the ferocity and force of rock with the cultivation and extravagance of jazz as never before for a truly unique, new sound.

"This is the type of CD I have always dreamed of making," says the guitarist. "This has always been my favorite style of music. To me progressive rock and fusion lend themselves to two very important aspects of music: melody and improvisation!"

For this recording CHASTAIN recruited long time collaborator DAVID HARBOUR, who once again proves he is one of the most original bassists around today. Joining in on drums, and giving a brilliant performance, is fellow Cincinnati Improvisational Group member MIKE HAID.

Of the album's title CHASTAIN says: "Since this new CD is a definite departure from my previous releases, I decided that the title should express that event. As music has the capacity to take you out of the world in which you live and transport you somewhere else, I felt NEXT PLANET PLEASE was a fitting way to describe the journey I take on this album.

Using a Roland GR-1 Guitar Synth allowed me to create many textures that had not been available in my previous recordings." The musical context is not easy to describe, but can best be compared to early Holdsworth, Di Meola, Return To Forever and Dixie Dregs influences, combined with CHASTAIN's own unique musical vision.

Serving as a bridge from previous recordings, the CD opens with "Project Transformation". The title track is one of CHASTAIN's personal favorites "because it brings to the forefront everything special about this type of music." The majestic "Forever Searching" has to be one of the most melodic tracks in memory, while "Sophisticated Debauchery" is a great example of progressive rock in full swing. The haunting "Homage To An Unknown Hero" is an extraordinary track for the emotional character of the song, and "Watching Time Go By" closes the CD with a very hypnotizing ending track that will make you want to play it again and again.

The CD was recorded at Kajem Studios in Philadelphia with CHASTAIN producing and Joe Alexander engineering. CHASTAIN says of the recording quality: "I'm extremely satisfied with the end result. It was a pleasure to be involved with the recording of this CD." NEXT PLANET PLEASE is the next phase in the expanding musical imagination of guitar visionary DAVID T. CHASTAIN!!

2013 Remaster Ordering Info:

Original Version:




You can now download individual tracks or this entire Cd at itunes!!




Original