"My Favorite Disaster: The Heavy One"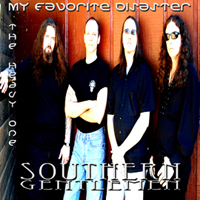 Southern Gentlemen are:
Eric Johns-Vocals
David T. Chastain-Guitar
Mike Haid-Drums
Dave Swart-Bass

SOUTHERN GENTLEMEN's 7th release, "My Favorite Disaster: The Heavy One" shows the boys different heavier take on the 2011 "My Favorite Disaster" release. This version is known as "The Heavy One" since the music itself has changed from the original "My Favorite Disaster" but the basics of the songs stay the same.

Vocalist Eric John explains: "The whole time I have been in Southern Gentlemen, fans have asked, 'when are you guys going to play some heavy stuff?' Because all of us have backgrounds in hard rock and metal, I think people always expected us to go in that direction. David T. saw an opportunity to give people what they have been asking for and went back into the studio like a mad scientist possessed. He added layers and parts to really re-invent the songs in a whole new way. I think even if you are a fan of the album in its original format, you'll find this version just as cool."
"The heavier version does a lot to bring out the darker elements of the songs. It definitely adds some bite to some already pretty heavy songs."

The band's previous Cds have become a staple of music for TV shows. The band's music has literally been used on 100s of TV shows. David adds, "There is probably at least one TV show on everyday that has some Southern Gentlemen music on it. We aren't getting rich off of it..., but it helps pay the bills!"







SOUTHERN GENTLEMEN'S RAVE REVIEWS

Read a short sampling of what they're saying about the band and its music:

Guitar World:The music on Third Time Is The Charm takes the band back to the more structured songs that were featured on their 2000 debut CD "Exotic Dancer Blues."

Mike Greenblatt (Metal Edge):A down 'n' dirty trip into heavier than usual Southern Rock. Chastain, as always, pulls out all the stops. Music like this is meant for a half-crazed ax-wielding son-of-a gun like David T.

Hit Parader:With a sound that recalls the halcyon days of everyone from Jimi Hendrix to ZZ Top, the band's first album, Exotic Dancer Blues, is a treat for anyone who fondly recalls that glorious period in rock history.

Carl Begai (Brave Words and Bloody Knuckles):Valley Of Fire is warm and inviting thanks to its simple, bare bones approach, with guitarist David T. and vocalist Eric Johns sharing equal time in the spotlight. Chastain is focused more than ever on vibe rather than flash, kicking things into high gear from the get-go, bringing things to an even burn yet keeping it heavy.

Guitar One:A raucous mix of 80s metal sound with a 70s classic rock vibe.

Michael Allison - musicdish.com: "The Rock album of the year." I've heard nothing that even compares. The musicianship is unmistakably top notch.

Chris Forbes (Metal Core): Holy hell is this one hell of a release! I can easily say it would be in my Top 10 Cds of 2008!

JRRBLL(WKRL/WKRH/WKLL-FM):Fresh, yet reverent approach to an age old sound with amazing and consistent quality.

Heavy Harmonies: Very good! Their 4th CD and the second with the great Eric Johns on vocals with huge raspy vocals and trademark Chastain's smoking solos!

20th Century Guitar: One of the top fretboard masters on the music scene.

Cincinnati City Beat:"The Gentlemen's sound takes on southern rock and blues, but gives it a more progressive slant, in much the same way Hendrix and Clapton reconstructed Blues in the 60s." "Hot and sweaty new blues rock from guitar wizard!"

KNAC.COM:This blues-based rock band actually caused smoke to leap outta my car's CD player, forcing me to stop my Honda on the freeway. Yep, it's that good.

Rick Bird (Cincinnati Post):"A wonderful backyard barbecue boogie CD meant to be played loud to annoy your neighbors. A great down-and-dirty release meant for summer-time cruising or rock 'n' roll cookouts."

ABOUT.COM(Heavy Metal):"David T. Chastain proves once again that he is a versatile musical visionary. ...a Classic Rock inspired, bluesy but heavy collection."

Will Romano (Modern Drummer):"Haid's uncluttered performances and spotless time-keeping serves these riff-driven, often suggestive Whitesnake-esque tracks."

Todd Smith(The Cutting Edge): Stirring up a mixture of Savoy Brown, early-Whitesnake and even a hint of Dio-era Rainbow the disc welts up a feisty combination of blues metal and technical guitar wizardry.

MetalExpressRadio.com: Wow, this album kicks some major ass. It definitely has Hard Rock, Blues, and Metal carefully integrated within each other in such a way that one doesn't overpower the other and take away from the final effort.

amazon.com: Any Album By This Band Is Awesome !!! This Is Their Fourth C.D. And This Cd Rocks!!!

Rick Maloney (Metal Rules):Third Time IS the charm for David Chastain and Southern Gentlemen. This is a band that I have always appreciated but with the addition of Johns on vocals it is safe to say that they have positioned themselves well for the apparent resurgence in hard rock that is happening right now.



Southern Gentlemen "My Favorite Disaster" 2011.



Southern Gentlemen at Leviathan Records.




Finally there is a place to get David T. Chastain, Southern Gentlemen, Zanister, Georgia Blues Dawgs, CJSS, Spike and other artists T-Shirts and More! Unbelievable selection, quality and prices! Go to: www.GETROCKGEAR.com