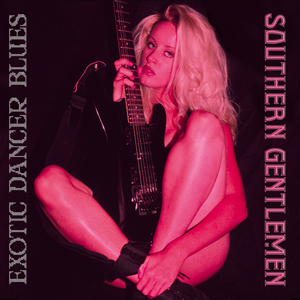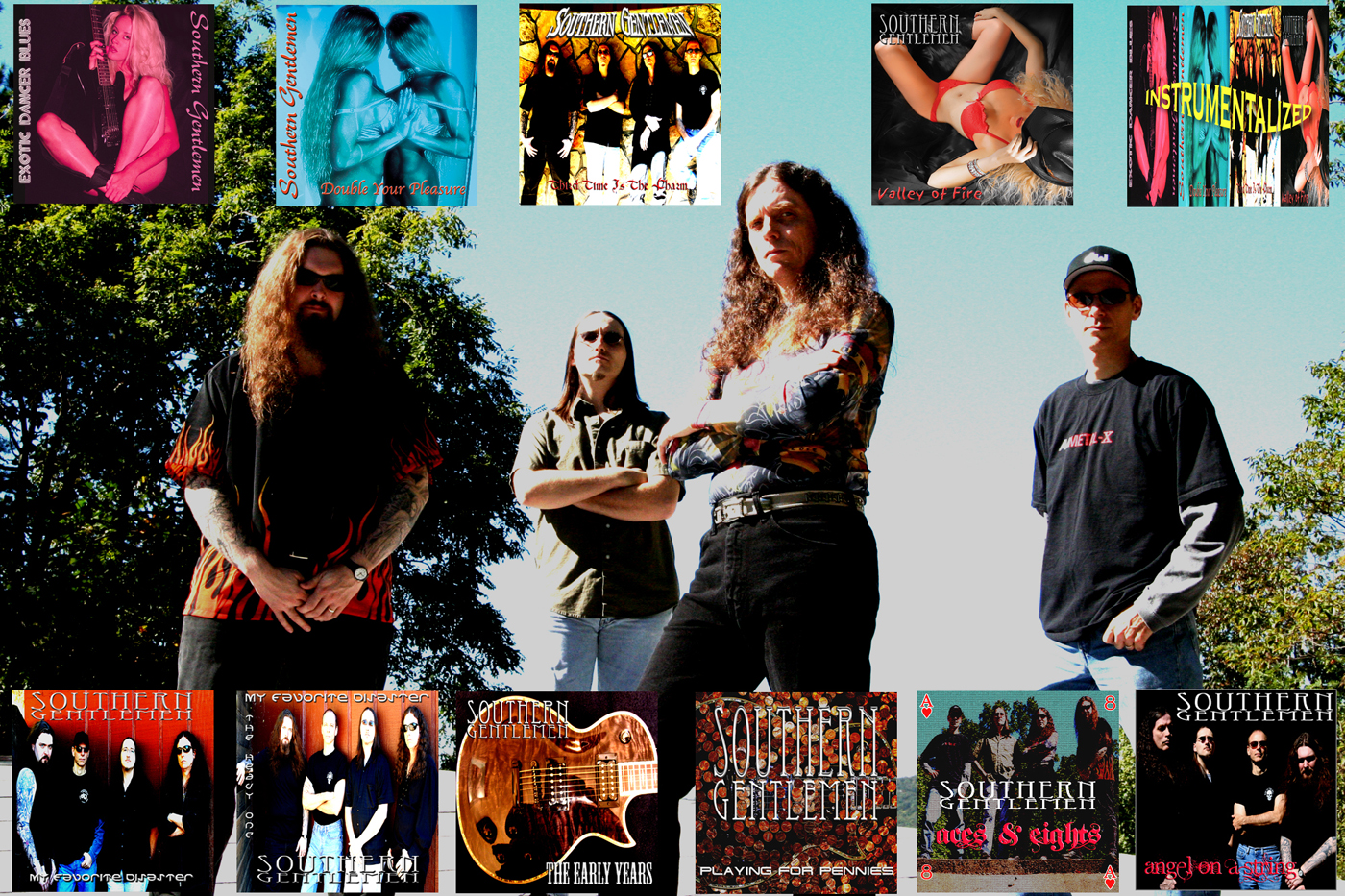 SOUTHERN GENTLEMEN PRESS QUOTES
SOUTHERN GENTLEMEN CDs GETS RAVE REVIEWS
Read a short sampling of what the people in the know are saying about SOUTHERN GENTLEMEN :

Guitar World:A hot-clockin' power-trio stance for a record of raw blues-metal, landing in a sweet spot among legends like Colin James, Stevie Ray Vaughn, Frank Marino, AC/DC and ZZ Top.

Mike Greenblatt (Metal Edge):A down 'n' dirty trip into heavier than usual Southern Rock. Chastain, as always, pulls out all the stops. Music like this is meant for a half-crazed ax-wielding son-of-a gun like David T.

Guitar One:A raucous mix of 80s metal sound with a 70s classic rock vibe.

Hits (Rich Ortega):Southern Gents burst upon the Rock scene with a debut effort which is nothing short of spectacular. They reinvent the electric blues with a heavier, groovier feel to it.

Carl Begai (Brave Words and Bloody Knuckles):Double Your Pleasure is way better than the first one, and the first one kicked my ass in a major way.

Hit Parader:With a sound that recalls the halcyon days of everyone from Jimi Hendrix to ZZ Top, the band's first album, Exotic Dancer Blues, is a treat for anyone who fondly recalls that glorious period in rock history.

Michael Allison - musicdish.com: "The Rock album of the year." I've heard nothing that even compares. The musicianship is unmistakably top notch.

Omar Bhoorasingh (Guitarworld.com)Southern Gentlemen showcases the super versatile shredder in a stripped down blues making us guitarists who can't sing proud. A powerfull release from the standpoint of a blues fan or a guitar nerd.

Scott Alisoglu (Electric Basement)A damn fine thing to hear. On top of that, one instrument in particular, guitar, burns so hot that it melts steel!

Hardradio.com: Three musicians clearly having a blast playing their hearts out.

JRRBLL(WKRL/WKRH/WKLL-FM):Fresh, yet reverent approach to an age old sound with amazing and consistent quality. Blues Access:Blues-Metal Power trio. Heavy with a capital H-with licks galore.

20th Century Guitar: One of the top fretboard masters on the music scene.

Ronald B. Barbour (Shockwave): SOUTHERN GENTLEMEN puts the RRRRRRRRRrrrrrrrr back in guitarrrrrr!!!

Scorchin Scotty (Hard Radio): Exotic Dancer Blues is another sparkling jewel in the gem studed g-strings of exotic dancers everywhere.

Cincinnati City Beat:"The Gentlemen's sound takes on southern rock and blues, but gives it a more progressive slant, in much the same way Hendrix and Clapton reconstructed Blues in the 60s."

CD Services Online (UK): It's fantastic!!! Possibly THE finest electric blues album of the last ten years, and no mistake - this is AMAZING.

KNAC.COM:This blues-based rock band actually caused smoke to leap outta my car's CD player, forcing me to stop my Honda on the freeway. Yep, it's that good.

METAL JUDGEMENT-SG is chock full of good ol' down home southern heavy blues rock. It does crossover into metal territory on some tracks.

Rick Bird (Cincinnati Post):"Chastain's guitar work is stellar as ever, even as he reveals a more gutsy and slowed-down sound."

Paul Hanson (Daily Vault):It's like they turned on the recorder in the studio and started jamming. I really like that live vibe. These songs have a jam-band feel.

Richard Paton (The Blade):"The band packs the disc with enough riffing and spirited soloing to please any blues rock fan."

ABOUT.COM(Heavy Metal):"David T. Chastain proves once again that he is a versatile musical visionary. A Classic Rock inspired, bluesy but heavy collection."

Michael Knight (Guitar 2001):This is a way cool album from the first song with its' Hendrixian 7/9 chords to the last with its' heavy footed wah chops."

Rock And A Hard Place Online:"It's heavy enough to keep your average Metal head interested, yet Bluesy enough to give the rockers something new to chew on.

Martin Popoff (Brave Words and Bloody Knuckles):"Strafing Axes, grinding blues, very electric metal, stamped with Chastain's seal of quality."

MUEN Online:4-Stars "WOW! genuine professional (70s rock) style blues playing done with a variation of influences, straight from the heart."

Desert Rock Promotions: SOUTHERN GENTLEMEN kick really major ass. Thick fretboard soloing abounds throughout the cd. A smoking gem of a cd!

listen.com:Led by David T. Chastain's swaggering riffs and drier-than-cured-tobacco voice, this band storms the ramparts of rock and roll and emerges victorious.

ABOUT.COM(Guitar):It's obvious that Chastain has shredder chops, yet he elects to play bluesy, gritty solos that really work well within the style of the tunes.

HeavyHarmonies.com:How about Bad Company meets Jimi Hendrix meets Stevie Ray Vaughn? If you like blues with a heavier edge, this is for you!

80smetal.com:This is down & dirty, bluesy hard rock that has some totally killer lead guitar work. Killer axework! Highly, recommended!!

Larry Nager (Cincinnati Enquirer):"His most accessible and satisfying Cd with enough fretboard fireworks to keep his audience happy."

Jason Ritchie (Classic Rock Newswire)If riff heavy blues rock is your thing, you will really enjoy this album. Plenty of sleazy blues here!

Michael Chlasciak (Aquarian/Halford):"This album is a great ride featuring solid songwriting, powerful performances from the band and well-delivered vocals."

Todd Smith (Cutting Edge):I've been waiting a long time for this and it is fantastic!

Gary Horn (XSTAR RADIO NETWORK):Brings back the good 'ol days of blues based rock-n-roll. Heavy enough to keep Chastain's core fans satisfied as well.

Geno (Generations Underground, heavyrock.com):I absolutely love the direction of this heavy-guitar blues music of the Southern Gentlemen.

Rock & Read Magazine (Nashville):Chastain never ceases to amaze me with his diversity and exceptional talent.

Hammerheadzine: Get ready for a fun time rock and roll record.

amazon.com: Very Good! All the way thru. Sounds a lot like a harder, faster, early ZZ TOP/ ROBIN TROWER with splashes of Jimi Hendrix here and there.

Eric Steiner (Cosmik Blues):I'd put Southern Gentlemen's near the top of my list--particularly for the Gentlemen's hard-driving blues. David T. Chastain's howlingly-gritty vocals and straight-ahead guitar work shine.

Rick Maloney (Metal Rules):The Gents have created a timeless collection of bluesy hard rock. David must also be commended for his vocal work.

Steve Huey -allmusic.com: Blues-rock in the vein of idols, like Jimi Hendrix, Robin Trower, and ZZ Top.

Frank Wales - Four One One: Pure roadhouse Rock-n-Roll with a healthy dose of Texas blues guitar. Chastain is without a doubt one of the most versatile guitarists of his generation.

METAL ROCK NEWS: Chastain's voice has really got stronger over the years and he is fine form here and has a similar tone to Ken Tamplin or Glenn Hughes.


BUY THIS CD NOW!!!!!!!
Southern Gentlemen photos
Interviews!