DAVID T. CHASTAIN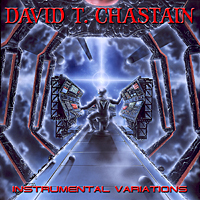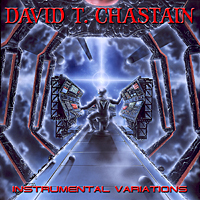 Instrumental Varitations
Definitely a classic!!
(Info from original release!)
"David T. Chastain just may be the hardest working in the heavy metal business, and it's fianlly starting to pay off." MUSICIAN MAGAZINE

The above-quoted statement may well be true. Guitarist David T. Chastain simultaneously fronts two bands--CJSS and Chastain--and between the two has released five albums within two years. Now, the Cincinnati-based musician is dazzling fans and music enthusiasts alike with his debut solo instrumental record, Instrumental Variations. The nine-song LP showcases the brilliant axe-man-ship and songwriting talents of the man the international rock press has dubbed the next mega guitar hero.

To say this hard rock Renaissance Man is prolific would be an understatement. In addition to writing all the songs on the LP, Chastain plays all the guitar, bass, and Kurzweil parts, served as producer, and oversaw the album's coordination and cover artwork.

Ken Mary--who handled drums for the last two Chastain group LPs--went into the studio to play on this album when he got home from touring and recording with Alice Cooper.

Instrumental Variations has been in planning for six years. When Chastain first hooked up with Heavy Metal veteran Mike Varney in 1981, this was to be their first project. "It's something I always wanted to do, but was too busy," confides the guitarist. So, following the lead of the first song of the record--"Now Or Never"--the decision was made to record the all instrumental LP when the musician came off a tour with his Chastain band.

"I've always enjoyed doing instrumentals," he says. "To introduce fans to my instrumentals, I've included one track on each one of the last two LPs (CJSS' Praise the Loud and Chastain's The 7th Of Never)." Chastain came up with the title LP "to let everyone know it is an instrument record right off the bat," and feels that the album is "very diverse. I made sure the songs did not all sound alike. Even though the record is mostly Metal oriented, there are traces of fusion, classical, rock, blues and thrash mixed together to form a very unique sound. On the whole, this LP is a lot more varied than other instrumental LPs out now."

For the first time, Chastain recorded some of the guitars in his at-home studio. The rest of the guitars, and the bass parts, were recorded at Cincinnati's Counterpart Creative Studios, and the Kurzweil synthesizer parts and Mary's drums were captured on tape in Seattle, WA's Steve Lawson's Studio. This is also where Terry Date (who was responsible for the last two Metal Church LPs) did the mixing. Instrumental

Variations marks the sixth album within two-and-a-half years for the busy musician. How does feel he's grown within that time? "I'm a lot better player now, and I keep getting better," he reveals. "As a matter of fact, two of the songs on the LP are updated versions of tunes I had originally planned to put on that record six years ago, but I changed the internal parts of those cuts for the better."

When some artists take years between albums, how does Chastain manage to keep putting out creative releases so frequently? "Time is irrelevant," he feels. "Either you can write a good song, or you can't. It takes some artists two years to write nine good songs, but not me. It's a matter of the quality of your output. Also, it's how much time you devote to your art. With me, it's my main priority. My whole existence is based around writing songs and putting out albums," he confesses. "If I toured as much as some artists, it would take me longer, too. But I've always written songs and put them on tape in my home studio. Somewhere I've tapped an internal creative river. I could write three, four songs tonight!"

Chastain has been known to pick up a guitar anywhere, anytime, and create. It's truly that just one week from the first time he picked up a guitar and began to play seriously, he joined his first band. "We did original material," he recalls. "I didn't pick up a guitar to play Kiss or Led Zeppelin or whatever was 'cool,' but to create my own music, I was always doing lots of original music. I wrote prose and song lyrics even before I could play." Chastain's home is filled with "tapes and tapes and tapes--there's always been a massive quantity of original material flowing through me."

The guitarist has a library of cassette recordings documenting his musical growth with everything from song snippets to completed compositions. "I have no idea how many songs I've written," he laughs. "On tape, I've got about 500 tunes, fully recorded with a band." As with most musicians, Chastain admits that "for every album we record, there's a throw-away factor. Usually we have 30 to 40 tunes prepared, and choose about nine per LP. Sometime I might fall back on those that didn't make it onto a Cd and use them again somewhere down the line."

Recording this solo album will not deter Chastain from future recordings with either CJSS or Chastain. "I only plan on one instrumental LP every great while," he states. "I'm not planning on making every third record an instrumental one. If it outsells the others massively, I may reconsider, but right now I have no plans to do but one every two or three years."

Since both his groups rely so heavily on Chastain's musical virtuosity, how does his playing on Instrumental Variations differ from previous efforts? "This is the time for the guitar to shine. Also, there's a couple of areas here that I've not played in other LPs I can be more musically complex when I'm not thinking about the vocals, but I could put vocals on a couple of the songs if I had to. 99% of the time, the music comes first when I write, and the vocals usually come last," he reveals. Saying that "I feel each album is getting better."

Chastain picks out a few tunes off Instrumental Variations to talk about. "Capriccio In E Minor' is from the six-year-old tape and is just what the title means; it's Italian for a lively instrumental. "'Wild And Truly Diminished' is in answer to a lot of guitar heroes who play scales which they think are diminished scales but are really only half diminished. No one seems to play the half tones. It's very odd scale, it's a cool scale, and people are leaving out half of it. " 'Spontaneous Combustion' happened after we recorded at my house and I saw that we needed another song. I wanted it to sound like a live band with only guitar, bass and drums and at the same time, to sound like a live jam. 'Now Or Never' came from my live solo on stage. I may play this tune in concert, depending on the popularity of the record and the audience's reception. 'Horizons' is the most futuristic piece on the LP. It's about my horizons, what I see for myself way in the future."

And what would Chastain like to see in that future? "I wish I could tap my brain to a musical computer," he confides, "because I have lots of ideas flowing through my head that I can't play or put down on tape. They're very classically oriented and I can't perform them on guitar, but they're up there in my imagination."

Maybe in time, we'll get to hear them all. Meanwhile, music lovers will have content themselves with the new sounds Chastain has created for Instrumental Variations, and wait for the imminent release of his next group project. It should prove to be time well spent.









2013 ***************** Original