Corbin King
"Guitar Master"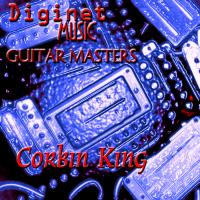 Corbin King, along with many other top notch guitarists have all recorded Cds that start out with the same bass and drum tracks. Then each guitarist lays down his own unique and original guitar tracks over the bass and drums. No player hears the other tracks before they have finished with their own Cd. Each player has his own Guitar Masters Cd as well as compilation Cds that has each player playing against the same tracks. It really is an eye opener to hear how each player attacks these tracks.

Corbin King is one of the best new guitarists to hit the world stage in years. His band VAINGLORY's ground breaking Power/Progressive/Thrash metal masterpiece "2050" is causing an explosion in the Metal community. Corbin's guitar command puts him in immediate contention for "Guitar Hero" status. Currently living in the Atlanta, Georgia area, Corbin is putting the final touches to his extensive home studio that will help him create more musical masterpieces for the world to enjoy!

CORBIN KING "Guitar Master"

CD on Demand!






Corbin King "Nightwalker"
Corbin King "Destination"
VAINGLORY

Finally there is a place to get David T. Chastain, Southern Gentlemen, Zanister, Georgia Blues Dawgs, CJSS, Spike and other artists T-Shirts and More! Unbelievable selection, quality and prices! Plus a 30 day money back guarantee. Go to: www.GETROCKGEAR.com