CORBIN KING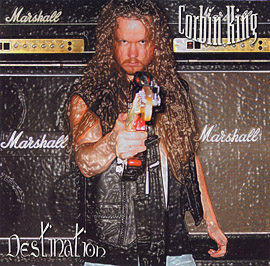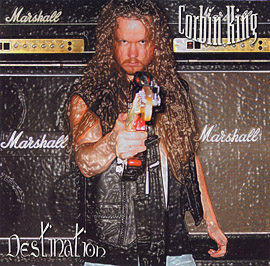 DESTINATION
CORBIN KING came to worldwide notice with his blistering guitar work on the critically acclaimed VAINGLORY "2050" release. He was proclaimed "One of the brightest young guitar stars to have come around in years." Blending influences from diverse styles such as traditional metal to shred metal to heavy blues rock, Corbin's dominant guitar is truly astounding.

"DESTINATION" is part of the Guitar Masters series that also included the 2003 released Cds MICHAEL HARRIS "Hurricane X" and JOE STUMP "Armed and Ready." To hear the different versions of the tracks by these great guitarists is really a mind opener.

Corbin describes some of his favorite tracks on the Cd:
MIND GAMES- This tune is pretty wide open all the way through. I really tried for a great tone, not only this song, but the whole CD. This song has some very dynamic parts and is one of my favorites on the Cd.

HURRICANE X- Completely energetic, a slight amount of a blues rock theme, but completely shredding at the same time. I really went all out on this one.

CHASING RAINBOWS- This song has some pretty terrifying guitar. There is a lot of riffing, soloing, Wah incorporation, and it still captures the main groove from the bass line as well. It really came out great!

HOT NIGHTS- This song is absolutely nuts! Over 8 minutes of really frantic and wild guitar. I play just about everything in this one. I will say keeping up with this song was a challenge. I always want to put in my absolute best and make it exciting. I believe I've achieved that with this song.

DESTINATION- By far the bluesiest tune on the Cd, yet still amazingly heavy. You can really just kick back and rock! A perfect ending. Accompanying Corbin on this Cd were drummer Mike Haid and Guitar Master creator, David T. Chastain on bass. This rhythm section of music veterans provides the backdrop for Corbin's talents to come to the forefront.

CORBIN KING "Destination" showcases Corbin's all around magnificent touch and feel for the guitar. We are sure that once Corbin's fierce playing is exposed to the masses he will be recognized as one of the true "Guitar Masters" of the new rock world!!


An absolute must have Cd for fans of exceptional instrumental guitar Cds!!




CD!!


Reviews of CORBIN KING "Destination"
Corbin King's VAINGLORY Cd!!
CORBIN KING "Guitar Master"