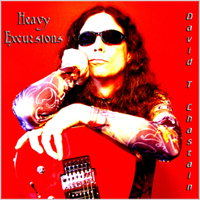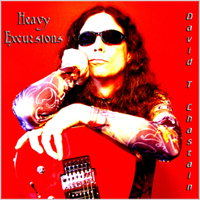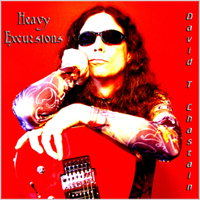 DAVID T. CHASTAIN
Heavy Excursions
Over the last 20 years Guitar Magazine writers around the world have favorably compared David T. Chastain to guitar greats Joe Satriani, Steve Vai, Eric Johnson, Steve Morse, Al Di Meola, Allan Holdsworth, Uli Roth, Michael Schenker and many others. However David's ambition has always been to develop his own "unique" style. David's first instrumental release was 1987's "Instrumental Variations." The Cd was released during the "Golden Era" of heavy rock instrumentals. That release as well as most of David T's instrumental Cds has had a varied musical format to showcase David's addiction to different styles.

David recently decided that he wanted to put out a release of what he considered his best "Heavy" instrumentals and he has done so on his new Cd, "Heavy Excursions." Tracks included are from the aforementioned "Instrumental Variations" as well as tracks from some of David's other all instrumental Cds, "Within The Heat," "Elegant Seduction," "Acoustic Visions," "Rock Solid Guitar," and David's newest all instrumental Cd , "Countdown to Infinity." As an extra bonus David added the Chastain instrumental classic "827" and the bombastic CJSS cut "Thunder and Lightning."

David comments, "I have always really liked '827' and 'Thunder and Lightning' and felt they needed to be included in any compilation Cd of my heavy instrumental favorites. Musicians featured on this Cd include bassists David Harbour, Steven Taylor and Mike Skimmerhorn. Drummers include Ken Mary, Mike Haid, Les Sharp and Rick Porter. David adds, "I have been very lucky throughout my career in having great musicians play on my solo Cds."

All of the tracks were digitally remastered to match today's standards and to try to carry a somewhat congruent sound from release to release. This collection of tracks has to be considered a landmark in heavy guitar instrumentals. For over 20 years David has been able to put out a very high standard of music with little consideration to the "in sounds" of the moment. A true artist does not waver in the face of fashion.





"Capriccio in E minor" mp3 from "Heavy Excursions"
Ad in Guitar World for "Heavy Excursions"
Other David T. Chastain releases at Leviathan Records.
David T. Chastain Interviews
David T. Chastain T-shirts and more!