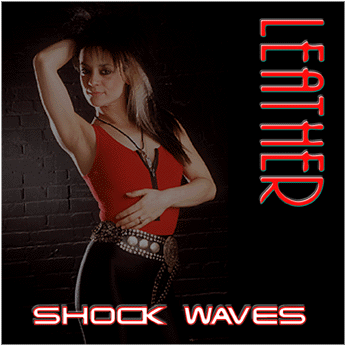 With the rerelease of Leather's debut solo album Shock Waves everyone will realize why Leather is considered the preeminent female heavy metal vocalist of the 80s. Leather's work with the metal band Chastain produced 5 of the best releases in metal during that era (85-Mystery of Illusion, 86-Ruler of the Wasteland, 87-The 7th of Never, 88-The Voice of the Cult, 90-For Those Who Dare). She received rave reviews from magazines worldwide and is still mentioned as one of the most powerful voices in female metaldom.

Originally released in 1989, Shock Waves features some of the biggest names in heavy metal today: John Luc He'bert-Drums (King Diamond, Mercyful Fate, Chastain), Michael Harris-Guitars (Zanister, Arch Rival, solo projects, Surgeon), and David Harbour-Bass (King Diamond, Chastain).

Producing the Cd was the metal legend himself David T. Chastain. Among the songwriters other than Leather include David T. Chastain, Pat O'Brien (Cannibal Corpse, Nevermore, Lethal) and Mark Shelton (Manilla Road).

Leather was originally in the band Rude Girl in San Francisco when she was brought to the attention of David T. Chastain who at the time was in search of a voice to front the band Chastain. David fell in love with the voice and once they met it was obvious that they were musical soul mates. Between 85-90 they toured consistently around the US and Europe and produced the 5 aforementioned metal classic albums.

In 1990 Leather gained further notoriety when the band's video for the title track to For Those Who Dare appeared numerous times on MTV. Her live performances were legendary for their power and her unique stage presence. A true professional, Leather never missed one concert due to illness, and she claims that opening for bands such as Kiss and Alice Cooper in major arenas was the pinnacle for her live shows.

Shock Waves was born for the reason of letting Leather show her immense talents and to be alone in the spotlight for all to see. In the band Chastain there was always David to share the attention. Originally released on Roadrunner Records, the Cd received massive praise but was never really properly promoted as the true musical masterpiece that it was. Once Leviathan regained the rights back the label immediately remastered and repackaged the Cd. The label wanted to make sure that this gem did not go forgotten and lost in some warehouse.

We believe with the big resurgence in 80s metal that Leather's Shock Waves will hopefully gain attention on her great talent. Leather, who for some unknown reason has been silent in the 90s, is a talent that has been sorely missed and we hope with the a little persuasion she will once again record so that all of her fans can experience the metal goddess again.


LEATHER "Shock Waves"


CD on Demand!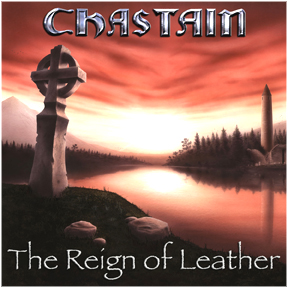 The Reign of Leather


This collection of Chastain tracks features all of the songs the legendary vocalist Leather had a hand in writing during her glory days with the band. As hard as it is to believe, Leather last appeared on a new Chastain recording 20 years ago and has not recorded any new music since that time. Despite that fact, her reputation lives on. Leather had but a brief 5 year stint in the classic band but recorded some timeless gems that have withstood the test of time. True metal fans consider Leather the preeminent female heavy metal vocalist of the late 80s. These tracks were recently digitally remastered in 2010 to bring them up to today's sound quality.

TRACK LISTING
1. For Those Who Dare
2. The Mountain Whispers
3. I Am the Rain
4. Not Much Breathing
5. Once Before
6. Live Hard
7. Chains of Love
8. Share Yourself With Me
9. Soldiers of the Flame
10. Take Me Home
11. Paradise
12. Too Late for Yesterday
13. The Wicked Are Restless
14. Take Me Back in Time
15. Forevermore



CD on Demand!


Chastain Video!
Chastain info
Leather Photos
Leather Info


LEATHER "Shock Waves" 2013 Remaster + Bonus Track



++++++++++


Chastain - The 7th of Never (2010 Remaster)


CD on Demand!
++++++++++


Chastain - The Voice of the Cult (2010 Remaster)


CD on Demand!
++++++++++


Chastain - For Those Who Dare (Original Mix)


CD on Demand!
++++++++++





Chastain, CJSS, Southern Gentlemen T-shirts and more!