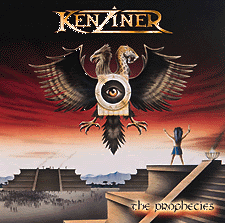 THE PROPHECIES

Kenziner's debut release "Timescape" in 1998 was undoubtedly one of the most impressive Cds of the year. The band received universal acclaim for the amazing musical compositions of Finnish guitarist Jarno Keskinen and the intense melodic vocals of Stephen Fredrick and the brilliant production of the legendary David T. Chastain.

The band's second release "The Prophecies" follows in the same grand tradition. Jarno has upped the ante with his intricate musical passages that some would compare to modern Mozart or Beethoven gone metal. Stephen's vocals are very powerful and helps narrate the band's musical vision. Stephen's unique style incorporates many diverse influences that mesh together to form the perfect voice for the band.

Joining Jarno and Stephen on this release is 19 year old keyboard prodigy Mikko Harkin. Mikko also hails from Finland. His keyboard solos add an extra layer of texture to the band's sound that is rarely matched into today's music. Mikko began talking piano lessons at the age of 5 and his many years of study have helped him develop truly incredible abilities.

Playing drums on "The Prophecies" is Brian Harris. Brian has gained notoriety from his recorded work on Cds by My Own Victim and the new Zanister featuring guitarists David T. Chastain and Michael Harris. Once Jarno heard Brian's playing on the Zanister Cd he was insistent upon having him on the new Cd. Brian's intricate and precise playing should put him amongst the elite in metaldom's drum core.

One immediate difference between the band's 2 Cds is the new heavier guitar sound that Jarno is using. Jarno says, "Although the guitar sound on Timescape is great the new material just needed a heavier guitar tone to get the sound I had in my head for the music."

Jarno further adds, "Believe it or not, 'Carry On Tomorrow' is one of my favorite songs on the new Cd. It is by far the most commercial thing I have ever written but Stephen's vocals are amazing. When I wrote this originally I didn't think it would ever work in Kenziner's material but once Stephen laid down the vocals it became a masterpiece."

Once again the production chores are handles by the legendary David T. Chastain. David states, "A lot of times bands make great first Cds but can't come up with any sort of decent material for their second Cd. Kenziner is the exception. I believe they have come up with a Cd that easily matches Timescape and as far as I am concerned Timescape is a metal classic!"

While Timescape was more of a concept album lyrically, The Prophecies touches on a lot of different subjects that are important to the band: War, lost love, yesterday's dreams, mindless murder, greed and a host of topics. Jarno states, "We wanted to talk about relevant ideas on this release. Timescape was more of a fantasy. The Prophecies is more about fact not fiction."

Kenziner has once again created music for the ages with the epic release of "The Prophecies." Jarno, Stephen, Brian and Mikko have joined together to bring us another instant metal classic.

The Prophecies is now available itunes and other on-line digital download sites!!




CD on Demand!