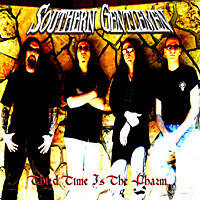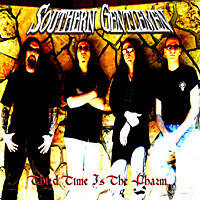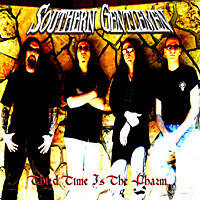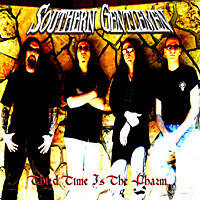 Eric Johns interview March 1, 2006
1. So give those of us not familiar with your music career, a little history.

I have been singing ever since I was old enough to walk. My mother was a studio musician who did fairly steady work as a backup vocalist in Nashville and in Texas. She saw at an early age that I gravitated toward music and encouraged it. I have been lucky enough to play with many good friends and amazing musicians over a fairly long career. My only international release prior to this was Simple Aggression's "Gravity" CD in 1996, but I have worked with musicians from many nationally and internationally released bands such as: Grip, Inc., Seven Seraphim, and Full Circle.

2. So how did you come to join Southern Gentlemen?

I have stayed in sort of on and off contact with David T. Chastain since the demise of Simple Aggression. He knew me from my association with that band and we would talk via email from time to time. He asked me if I would like to sing on some songs for the upcoming Southern Gentlemen project he was working on at that time, and I was all for it. I never actually thought I would get the gig. But, he seemed to like my take on his songs and kept asking me to sing on more songs. Eventually, I was offered the gig, and I have been stoked about it ever since. I am a huge fan of the music David is paying homage to in this band, so getting to participate in that project has been really cool.

3. What were your thoughts on the first 2 Cds?

I spent quite a bit of time dissecting them and really studying the vibe David T. and his band at that time were trying to put out there with those records before trying to sing for the band. I like many of those tracks. I would love to have the chance to sing some of those tracks live, if we get to play some live dates. I am hoping to do them justice.

4. What are your favorite tracks on "Third Time Is the Charm?"

Probably my favorites on the CD are "Heaven Help Me Now" and "It's Not True." Both have personal resonance with me lyrically, even though David T. wrote the lyrics. I suppose everyone can relate to the loss of a loved one and the feeling you are being wronged by someone you care about.

5. The band seems to have some cool photos, where were those shot?

All the photos in the press kit and on the CD jacket were shot at Mike Haid's home studio in Jasper, Georgia. It was a very nice place built into the side of a mountain. I remember it was very hot for September and that Mike's wife was super gracious to us all.

6. Any tour plans?

God, I hope so. At this point, it is all speculation, but I would love to do it. Having the chance to play on stage with a musician the caliber of David T. would be like having the chance to spar with Muhammad Ali. You have to know that you better bring your "A" game or you are gonna get smoked. Plus, Dave Swart, our bass player, is one of my best friends so getting to play live with him again would be awesome. Oh yeah, and seeing Mike Haid again would be very cool, too. He is a great dude to hang with.

7. Are you currently doing any other musical projects at this time?

I have a few projects in Cincinnati, OH where I live that I kick around in for fun. It's nothing too serious. Mostly, we are all just guys who have other bands who get together just to jam.

8. What are some of your major influences?

My favorite singer growing up was definitely Ronnie James Dio. To this day, I still think he has probably the best vocal technique of any singer in hard rock/metal. I often get comments from people who tell me I sound something like him, and it is always a compliment. These days, my favorite singer is probably Warren Haynes from the Allman Brothers/Gov't Mule. I just love the tone of his voice. He doesn't excel in range, but his vocal tone is amazing. I also love some of the great R&B influenced rock singers. Guys like Mick Jagger, Rod Stewart, Roger Daltrey, Paul Rodgers, and of course, Robert Plant. Another huge influence for me was Ian Gillian's work on the Jesus Christ Superstar cast recording. To this day, I think it is one of the best male rock vocal performances, ever.

9. If you could put together your dream band with you as the vocalist, who would the other band members be?

I love playing in the band I am in now, but if this were purely a fantasy thing:
Drums: John Bonham - the best blues rock drummer ever. Period. His work on "When the Levee Breaks" and "Trampled Underfoot" are timeless.
Bass: Melissa Auf Der Maur - I love her voice and would die to play in a band with her just to have her harmony vocals with mine. Hell, if she can make Courtney Love and Billy Corgan sound good, imagine what we could do together...
Keyboards: Eddy Harsch - any fan of the Black Crowes knows just how bad ass Ed is...
Guitars: My dream guitar lineup would be the one-two punch of Duane Allman and Warren Haynes. I can't even imagine how good it would sound. If I ever had to try and front that band, it would never work, because I would be too busying listening to the jams to ever come back and sing the next verse.
Let's be honest, though, even if this dream band did get put together, I would get replaced by Robert Plant within a week...

10. You have full sleeve tattoos on both arms. Do any of them have any special meaning to you?

All of them have meaning to me. Those that mean the most to me though are my portrait of Saint Lucia on my left arm and my portrait of a Joseph Michael Linsner painting on my right arm called the Venus of Dawn. The Saint Lucia portrait resonates with me because she was the patron Saint of the blind. Supposedly, even though she could not see she could recite any verse from the Bible. I am not at all religious, but I admire that devotion. The Venus of Dawn portrait depicts the figure of Death (the Grim Reaper) embracing the Goddess of Life (Aurora) who is crying. To me, it means that Death embraces Life because it knows without Life there is no Death and Life cries because it knows it has to die. I like the symbiotic imagery of the relationship.

11. Any final words to the fans?

Thanks so much to everyone who likes what we do. It gives me hope that in a world of disposable American Idol winners and kids no older than 22 who think they are punk rock that there are people who enjoy and understand the music we make. I am a fan just like they are and I am so happy and grateful to have the chance to make music that I hope they'll like.

Also, if you have the chance, please check out www.musicrising.org Help the musicians of New Orleans who have lost so much. It is a cause very near to me because I have many close friends who were affected by Hurricane Katrina. New Orleans is the most incredible place for music I have ever been to in my life and it needs everyone's help to stay that way. If you can give even a dollar, know that your money is well spent.
BUY THIS CD NOW $9.99!!!!!!!