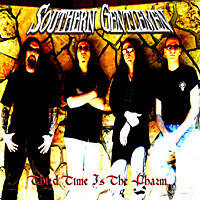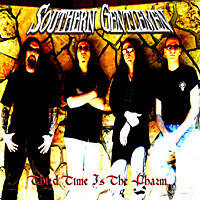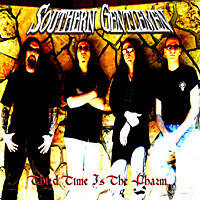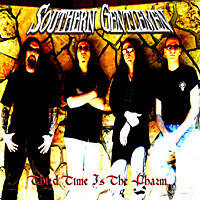 Mike Haid interview March 3, 2006
1. So give those of us not familiar with your music career, a little history.

I started playing drums (seriously) in junior high school. Put a band together with some classmates and started rocking! I played in rock bands all through high school and then started playing professionally when I graduated from high school. I was on the road for about 4 years and finally decided to move to Los Angeles. I graduated from Musicians Institute in Hollywood and then moved to Florida for a little while. I hated Florida so I moved back to LA and stayed there for 15 years. I moved to Atlanta several years ago, built a home studio and started working with various groups and artists around Atlanta. I've been blessed to make a living playing music my whole adult life. I've worked with some incredible musicians over the years.

2. So how did you come to join Southern Gentlemen?

- I've known David (Chastain) for many years. He's a good friend and a great musician. We used to jam together when we both lived in the Cincy area. There's always been a strong chemistry between us. David has called me to work on several projects over the years. Southern Gentlemen is the most recent. I dig the SG material because it has a very 70s-80s hard rock attitude, which is the era of rock music that had the most balls and heavy guitar oriented sound. David has a solid feel for that style. The SG music is great classic rock.

3. The drums sounds really slamming on the new Cd. What did you use in the studio?

I used a set of Brady custom drums and a variety of Sabian and Zildjian cymbals. The mics are mostly Shure. I tune my drums down in pitch for the SG material to get a thick, heavy sound that best suites this type of material.

4. What are your favorite tracks on "Third Time Is The Charm."

- I really like practically every song for one reason or another. "Even Now" has a cool vibe that reminds me of "Radar Love" from Golden Earring. "I Don't Want You" has a mean ZZ Top feel. "Caught You Red Handed" is a sentimental favorite because I used to go watch David play this tune with his great rock band, Spike. "Going Down To Texas" has a difficult double bass part that isn't fast, but has a feel that is tricky to capture. "Ladies Of The Night" is just an all-out ball bustin' rocker. My overall favorite is "Reflections" because I came up with a cool single stroke hi-hat part that was very difficult to play. Then it moves into a heavy double time groove that I really enjoyed playing because it has sort of a classic fusion attitude.

5. What Cd do you believe has the "perfect" drum sound?

- I don't believe that there is a "perfect" drum sound. Depending on the style of music, the drums can either sound great or horrible depending on how they were recorded and mixed. You have to record and mix for the style of music you're playing. I feel that the Rush "Moving Pictures" recording is one of the best sounding drum recordings for it's time. John Bonham always had a great sound, but the recordings were not perfect. It was his overall feel and drum sound that, when mixed with the rest of the band had a sound that really worked for that era of rock music. It's hard to judge today's music because so much of it is sampled, looped and reworked in Pro Tools. You don't know what's real and what's sampled or layered on top of the original tracks.

6. Who is the best drummer you have ever seen live?

- Buddy Rich. There will never be another drummer like Buddy. He developed the art of drumming to a level that is unreachable. I was fortunate to see him play several times. The present day master is Vinnie Colaiuta. Vinnie creates musical ideas that are always fresh, challenging, and with such a strong groove and great sounding drums. He's the most expressive, versatile, and technically advanced drummer that has ever lived. There will never be another Vinnie either.

7. Are you currently doing any other musical projects?

- I work with several artists in the Atlanta area playing rock, jazz, funk, fusion, as well as a few singer/songwriters. I work a lot with an amazing guitarist named Steve Cunningham. I played on Steve's "Dubios Tones" CD, and we have become good friends. Steve is a unique and gifted player. He plays shredding guitar and then turns around and pulls out his lap steel and burns on it as well. I'm very fortunate to be able to work with such great players like Steve, David Chastain, and a host of gifted players in Atlanta.

8. What are some of your major influences?

- I grew up in the 70s-80s and I'm a big fan of jazz/rock fusion and hard rock. I love the early fusion bands like Mahavishnu Orchestra, Return To Forever, Weather Report, and Frank Zappa. My favorite metal band is Judas Priest. I love Hendrix, Jeff Beck, Roy Buchanan, and all the great guitarists of the early rock era. My favorite drummers are mostly fusion guys like Vinnie Colaiuta, Dave Weckl, Steve Gadd, Terry Bozzio, Billy Cobham, Tony Williams, David Garibaldi, and Simon Phillips. I have a million favorite drummers because there are so many great players that have influenced me over the years. I love all the great groove players like Harvey Mason, Jeff Porcaro, John Bonham, and the list goes on.

9. If you could put together your dream band with you as the drummer, who would the other band members be? Dead or Alive?

Jeff Beck, Roy Buchanan, Jimi Hendrix, Stevie Ray Vaughn - Guitars
Victor Wooten, Stanley Clarke, Jaco Pastorius - Bass
Chick Corea, Jan Hammer, George Duke, Joe Zawinul - Keys
Giovanni Hidalgo, Tito Puente - Percussion
Michael Brecker, Charlie Parker, John Coltrane - sax
Louis Armstrong - trumpet
Toots Theilman - harmonica
Ella Fitzgerald, Mariah Carey, Aretha Franklin, James Brown, Rob Halford, Paul Rodgers, Stevie Wonder, Louis Armstrong - vocals

10. Any final words to the fans?

- Listen to music with love and respect for what the musicians are saying on their instruments. A song is a gift, and should be given the same love and respect that was put into making it. The art of music is becoming extinct. Great musicians are a dying breed because modern culture is neglecting the responsibility of educating the younger generations to the true art, the technical challenges, and the beauty, of playing a musical instrument and getting together with other musicians and creating the gift of music. Because of the internet, music has become a disposable commodity. It's too easy to steal, copy, burn and download music, therefore it has lost it's value to the younger generation. Our world has become too much of a visual medium. The mind can create such vivid images if you just shut your eyes, relax, and let yourself get lost in the music. I value the gift that I have been given to play drums and I will continue to help educate the younger generations to the importance of creating and respecting music, and the musicians who have devoted their lives to the art of creating such amazing music. There is a beautiful, challenging, and fulfilling world to be discovered inside the dying art of playing music. Thank you, to all who have chosen to support and encourage us to keep doing what we love.


BUY THIS CD NOW $9.99!!!!!!!