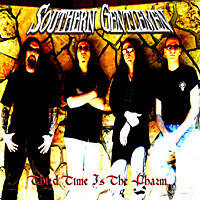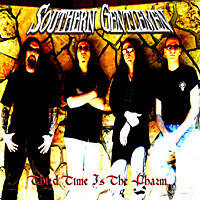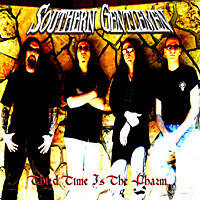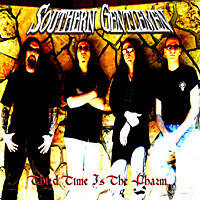 Eric Johns interview March 21, 2006 for Cincymetal.com
Southern Gentlemen

ERIC JOHNS is back for more and rocking out with Cincy Legend David T Chastain in Southern Gentlemen. We here at CincyMetal.com owe alot to Eric, David T and all of Simple Aggression for their help in making the CincyMetal.com cd release show a success. For those sleeping under a rock the past few years, Eric, Dave Swart Darrin McKinney, James Carr and Kenny Soward and Doug Carter agreed to reunite the legendary band Simple Aggression for the show. David T Chastain donated 200 Simple Aggression cds through his label Leviathan Records and 100 Chastain cds. Their efforts, along with the opening bands and Never On Sundays and Paul Riley, made that show the most memorable show I have ever attended and helped all the local bands on the CincyMetal.com cd get some recognition. These guys will always be legends to me and I definetely feel 100% honored to do an interview with Eric.

Here is the first interview with Eric

1. So what's new?

A lot has been happening. The biggest thing has been that I was asked to sing on the latest Southern Gentlemen CD, titled "Third Time Is The Charm." For those not familiar with the band, Southern Gentlemen is a project of Cincinnati guitar legend David T. Chastain. He is a huge fan of blues rock guitar and this band exists to pay homage to that style of music and to attempt in some ways to give some new life to the format. David T. also asked my good buddy Dave Swart to play bass on this CD with us, so it has been great to play with him again. The CD will be available for in store purchase nationwide on April 4, 2006. If you just can't wait to get one, you can go to www.Leviathanrecords.com or www.southerngentlemen.com and follow the links to order the CD now. If you want to hear some sample tracks and see what we are up to, come to our www.myspace.com page at www.myspace.com/sgentlemen
I have also been working on a really cool acoustic project called Skyclad with the guitarists from In Rage. We'll probably be playing our first shows by the end of spring. We'll most likely be hitting venues like the Blue Note and Mabel Murphy's. We'll be playing some pretty unique stuff acoustically and there will be the occasional number for the metal fans. I can't do a whole show without paying homage to my roots.
Other than that, I suppose the only news to report is that I am not playing with ClusterFunk anymore. I have nothing but good wishes for the guys in the band, but it was time to move on. I'm not down with airing dirty laundry in public, so I'll just say that they know why it was time for me to leave.

2. CincyMetal.com was honored to have your former band Simple Aggression reunite for the Cincymetal.com CD release show. How was it to play with them again after 8 years? Is there a possibility that Simple Aggression may yet play again together?

Playing with Simple Aggression again was an awesome experience. We were such a big sounding band. I think I had forgotten how massive we could be sonically until we all got back in a room together and started working out the songs again. It really was a great night and I thank everyone who came out and enjoyed the show.
There haven't been any talks about doing another show that I have been involved in, but if the opportunity were to come up, I would certainly be there in a heartbeat to do it. I am, and will always be, very proud of my work in that band and what we were able to accomplish. All of us are on friendly terms these days, so it could just organically come together at some point.

3. Is there any chance that First Born, another of your former bands, might play together again?

I wouldn't bet the farm on this happening. Ever. There are about a million reasons why not. I'll stay away from the ones that paint any individual members (including myself) in a bad light. I think the real reason it wouldn't work is that those songs represent a space in time that doesn't exist for many of the guys that were in the band anymore. In other words, most of the band grew up. For the one or two members of First Born who still think living in that era to be a good idea, I can only say look around you and see what it has done to your life.

4. You recently joined Southern Gentlemen and released a CD with them, "Third Time is The Charm" How was it working with guitar legend David T Chastain on this?

David T. was an amazing guy to work with. He is a true professional on every level. He knows what he wants from a performance and he knows how to get it. I am very honored and humbled that he asked me to do this project with him. I used to see CJSS and Chastain when they would play Bogart's when I was just a kid. To me, they were larger than life back then. To be asked to play with one of those guys just blew me away.

5. David T Chastain handled the vocals on the first two Southern Gentlemen albums. Why did he decide to get another vocalist for this Southern Gentlemen album?

David wrote all the songs and demoed them with his vocals. I think he realized that the songs for the third Southern Gentlemen album were structured in such a way that bigger vocals were required. I think David's voice actually worked quite well for what he was trying to do on the first two Southern Gentlemen CD's. However, this time out I think he was looking for a vocal that would make it more a band than a project with a guitarist who sings. Whatever the reason, I am just glad he gave me the job.

6. Southern Gentlemen is stylistically a major departure from the music you are most known for in Simple Aggression. How do you think your fans from Simple Aggression will receive your work in Southern Gentlemen?

I don't really know the answer here. I hope they like it. I always hope everyone will like what I do. But the reality is that people sometimes like your art, and sometimes they don't. I have had First Born fans say they didn't like the Simple Aggression stuff. I have had Simple Aggression fans say they liked when we did material off of Gravity, but hated when I sang song's off the first CD. And I could probably give you a million more examples.
Honestly, though, there were some very bluesy elements to parts of Gravity, such as the track "In My Nature." So, I think there is a chance that some of the folks who liked Gravity might like Southern Gentlemen. Keep in mind that Gravity came out in 1996. 10 years is a long time and people's tastes are always evolving.

7. With David T. being located in Atlanta, are you going to be able to talk him into doing a Southern Gentlemen show here in Cincinnati?

I definitely hope so. There have been several show offers coming in from all over the place. I can't imagine that if we would tour, we wouldn't play a show in Cincinnati. Everyone in the band has ties here. Chastain, of course, as well as me and Dave Swart all had successful bands here. Mike Haid grew up in Northern Kentucky and went to Boone County High School. If the economics of setting up some shows can be worked out, I'd say Cincinnati would almost have to be on the itinerary.

8. Simple Aggression bassist Dave Swart has also joined you in Southern Gentlemen. Did you guys try talking Chastain into jamming to a Simple Aggression tune with you?

Not yet. But I have had that idea in the corner of my mind for a while now. I could see one or two Simple Aggression tunes that could be nice jams for Southern Gentlemen. David T. has always been known for dipping into his back catalog of works when the impulse strikes him. In fact, we re-did a Spike! song, "Caught You Red Handed" for the new Southern Gentlemen CD.

9. The first two Southern Gentlemen albums featured hot chicks on the cover, including Chastain vocalist Kate French. So why a picture of the band and not hot chicks on this album cover?

We actually considered staying with the hot girl on the cover theme, as well as a bunch of other ideas from all over the place. I think the thing that finally gelled for everyone though was just to make the statement that this is the band, here and now. David T. wanted it to be clear in the press and packaging that the band now had a singer and was a four piece.
I do miss the hot girls, though. I'd rather be looking at them than at myself. The model for the second CD, "Double Your Pleasure" is one of our "friends" on myspace.

10. With David T Chastain being a vegetarian, did you try to talk him into eating a Big Mac?

No. I wouldn't try to talk anyone into eating something I wouldn't eat myself. Watching "Super Size Me" kind of did me in on McDonald's.
It is ironic, though, that when Dave Swart and I went to Georgia to do photos for the CD and press kit, we met David T. at a McDonald's. And no, he wasn't eating anything there.

11. So did you get caught up in Bengal Mania this past football season?

I am a huge Bengals fan and have been for some time, even when they were terrible. I just love NFL football is all. I like going to a game even if I know we're gonna get killed.

12. Do you think with the recent violence that happened at a show at Sudsy Malone's will affect attendance at metal shows there and at other metal clubs in the area?

I don't see how it could not have an effect. Unfortunately, both Sudsy's and Topcat's are in Corryville on Short Vine. I think everyone can see how bad that neighborhood has fallen in the past few years. Just look how many businesses have packed up and moved out of that area. I recently went to a show on a Friday night at Bogart's and I was looking over my shoulder the whole way to the venue and back.
Sadly, I don't think either Sudsy's or Topcat's can do too much to improve attendance to their shows and I don't really think it is their fault. They are victims of location in my opinion. Most of the people who do live in the area aren't interested in the music going on there and the people who would be interested stay away because they are afraid of the area.

13. Back when we did your first interview, local bands were only getting into play Annie's as local support for national bands. Now they are getting in there every Friday for a total local show. Do you think this is a sign that the local band scene is getting back to how it was during Simple Aggression days?

I don't know if it really is a sign of anything. From what I gather from the message boards, people who want to play the local Fridays shows at Annie's have to work some kind of ticket arrangement with Transfusion Productions. If that is the case, then it isn't at all like the scene was when Simple Aggression or First Born was playing that venue. I can say in all honesty that we never in any project I have ever been a part of entered in to any kind of arrangement like that. All of the risk there is being put upon the artist. The promoter and the venue are going to make out on that deal, no matter what.
I really would like to see Annie's be a regular venue for live music again. But they make way too much money being a dance club, without the overhead and aggravation of dealing with a band every night.

14. Final Thoughts?

I have been making sure I mention this in every interview I have given for the Southern Gentlemen CD, so I hope you'll indulge me here. I want to encourage everyone, if you love music, to please go to www.musicrising.org and give something. Even if it is just a dollar.
Music Rising is devoted to putting instruments back in the hands of the musicians who lost everything when Hurricane Katrina hit the Gulf Coast. New Orleans has been like a second home to me and knowing that there are people there who I care about suffering makes me sick on so many levels.
As a musician, I can't imagine what it would be like if one day I woke up and everything I had was washed away and I didn't even have my instruments to play anymore.
I think all of us who play any style of rock n' roll owe a little something to the Gulf Coast. It is arguably the birth place of blues and it is definitely the birth place of jazz. Ask yourself what kind of music would any of us be playing right now if Robert Johnson hadn't made his deal with Old Scratch on a crossroads in the Mississippi delta.
Thanks for having me on here again to ramble on. I'm proud to sit here and rot with you.

Peace,
Eric

Thanks Eric!! If you haven't checked out Southern Gentlemen with Eric, David T. Chastain, Dave Swart and Mike Haid yet, stop reading this immediately and get on over to http://www.myspace.com/sgentlemen NOW!!!


BUY THIS CD NOW $9.99!!!!!!!