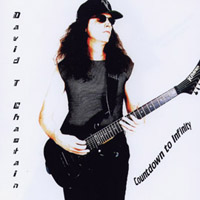 DAVID T. CHASTAIN
Countdown to Infinity
Countdown to Infinity is David T. Chastain's first multi-tracked all instrumental Cd since 1994s Next Planet Please. This sophisticated recording encompasses influences from what David describes as his 3 eras.

He states, "Some of these tracks sound like they could have been on my late 80s neoclassical shred based Cds such as Instrumental Variations. Then other tracks have a more fusion feel of Next Planet Please. Then lastly, they all seem to have a touch of my more recent improv based instrumental releases such as Rock Solid Guitar. Not that I was trying to please anyone or everyone, but it is just the way things turned out. I guess you could call it a contemporary retrospect. However I have to say the Cd flows quite well from my subjective perspective."

Mike Haid played drums on this new release and David states, "Mike really outdid himself on this one. I kept telling him to go overboard and he fulfilled those directives splendidly. He ignites the tracks! His performance should appeal to fans of intense drumming."

The Cd was mixed and mastered by noted metal engineer Christian Schmid at the Music Factory in Germany. His contributions made this Cd a more "metal" sounding Cd than most instrumentals releases.

David elaborates as to why this Cd now, "I had quite a backlog of instrumental material I was looking to record when I had a break from my bands Chastain and Southern Gentlemen. I could have easily released one Cd for each style within but I always felt, as you can tell from my career, variation is the spice of my musical life."

While it is hard to pick a standout track, David gives a short take on one of his personal favorites, "Attack of the Mechonrites has what I like in my instrumentals. It starts off with a dramatic intro, followed by a nice melodic section, then kicks into a more improvised section with just guitar, bass and drums. Then the final section is a slower and heavier section with a more emotional based solo. Plus the title sounds like an episode of Star Trek!"

In regards to the title of the Cd Countdown to Infinity, David states, "Well ... I have reached a point in my career where there are no boundaries for me commercially. So it is really a countdown to no limitation or external determination in what I want to do musically. Just plug in and play and let the chips fall where they may!"




"Attack of the Mechonrites" mp3 from "Countdown to Infinity"
Other David T. Chastain releases at Leviathan Records.
David T. Chastain Interviews
David T. Chastain's releases at Diginet Music
David T. Chastain T-shirts and more!