MICHAEL HARRIS
HURRICANE X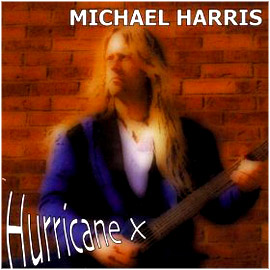 Michael Harris' fifth solo instrumental release, "Hurricane X", showcases Michael's amazing improvisational abilities and on the fly melodic genius.

The son of two musicians, Michael Harris was born into a musical world in the Ohio heartland. Exposed to jazz influences by his father and classical music by his mother, Michael discovered the guitar at age 14. Along with many progressive guitarists and bands, Mike's earliest influences were Ritchie Blackmore, Robin Trower, & Jimmy Page, and eventually Frank Marino, Steve Morse, Uli Jon Roth, and Michael Schenker.

Michael got his first taste of musical success immediately following his high school graduation, with the formation, as what later became known as, ARCH RIVAL. The band went on to release two EPs and three full length CDs. The releases gained commercial and critical success in Europe and Japan.

Following his move to Dallas, Texas, Michael joined up with long time friend, guitarist David T. Chastain and formed the metal monster ZANISTER. This band also took the overseas and US markets by storm with 2 heavy releases "Symphonica Millennia" and "Fear No Man."

Michael has also continued to maintain a very successful solo career which is currently his primary focus. "Hurricane X" is Michael's most raw and free instrumental work to date. This release again shows Michael's amazing versatility and command of his instrument that few can match.

This Cd was originally recorded as part of the acclaimed Diginet Music Guitar Masters series but all parties agreed that this Cd needed to reach a much larger audience and that could only be accomplished by a full fledge commercial release. The guitar series provided each guitarist with the same bass and drum tracks, played by Mike Haid and David T. Chastain respectively, and then each player added his own unique parts over the rhythm tracks.

Michael had this to say about some of his favorite tracks; PRISONER OF TIME- This track was my quickest take. Sometimes the simplest tracks are the most inspiring, and I locked into this one immediately while just going for the "feel factor".
ARMED AND READY- I took a lot of time with this one as to not repeat previous ideas, and ended up discovering a lot of new things. And I added the "choir" keyboards after the fact, as they seemed appropriate.
DESTINATION- This was another enjoyable slow paced number that I tried a more subtle approach on by using volume swells with harmonics, open string runs, harmonic runs, hybrid picking, and ghost bends.
MICHAEL HARRIS "HURRICANE X" four words that should once again prove to the world that this mighty player has few equals in the world of modern guitardom.





CD!!