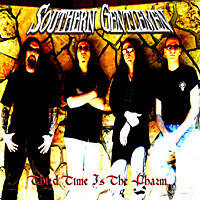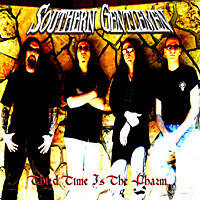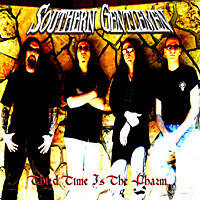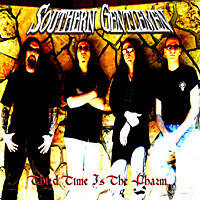 Southern Gentlemen

Reviews

Metal-Rules.com
Southern Gentlemen - Third Time is the Charm
April 2006
Released: 2006, Leviathan Records
Rating: 4.0/5
Reviewer: Rick

Third Time IS the charm for David Chastain and Southern Gentlemen. Having created 2 excellent slabs of blues metal with the bands debut EXOTIC DANCER BLUES (2000) and DOUBLE YOUR PLEASURE (2003) the Gentlemen have finally released their eagerly awaited third disc and it was surely worth the wait. Not only do we get a new CD but the band also has a new lineup. Joining Chastain is holdover Mike Haid on drums plus new bass player Dave Swart and more importantly vocalist Eric Johns. On the previous releases Chastain handled the vocals duties along with guitars but this time around he found the vocalist that he felt the band needed to get it to the next level. And this writer can't say as he can disagree. Johns is a powerhouse on vocals and has a gritty yet powerful set of pipes that perfectly fits the Southern Gentlemen sound.
THIRD TIME IS THE CHARM is the Gentlemen's heaviest work to date. Part of that the band attributes to the disc being mixed by Mike Schmid at the Music Factory in Germany but it is much more than that. The songs themselves are shorter, for the most part, than those found on DOUBLE YOUR PLEASURE. The extended jams have been taken out which makes the album overall flow a little better and makes it more cohesive. The biggest reason though can be attributed to new vocalist Johns. Though Chastain was a good vocalist, Johns takes the songs places that most vocalists can only dream of. His voice drips with emotion and power and blends perfectly with Chastain's vision of southern hard rock. "Heaven Help Me Now", "I Don't Want You" and "Caught You Red Handed" are standouts with "Caught You" being the story of a man catching his woman with his best friend. On this track the addition of Johns really strikes home as his emotional delivery coupled with one of Chastain's more aggressive guitar riffs makes this possibly the best song on the CD and one of the best from the Southern Gentlemen catalogue.
Southern Gentlemen is a band that I have always appreciated but with the addition of Johns on vocals it is safe to say that they have positioned themselves well for the apparent resurgence in hard rock that is happening right now. Chastain is an elite guitar player and now he has found an elite voice to help realize his Southern Gentlemen vision.

***********************************************

www.thecutting-edge.net
by Todd Smith
SOUTHERN GENTLEMEN
Third Time is the Charm
Leviathan Records

There may be something prophetic to SG's new title. Indeed, this is the band's third outing, and another round of changes since 2003's Double Your Pleasure. This time, we see the blues rockers expanding into a foursome with bassist Dave Swart replacing Kevin Kekes and guitarist David T. Chastain stepping aside to allow Eric Johns to man the vocal front. Both Swart and Johns are transplants from the Cincinnati, Ohio band, Simple Aggression. Many associate Chastain and his guitar calisthenics to '80s power metals bands CJSS, Chastain and the wizardry of his solo efforts. With Southern Gentlemen, Chastain's focus is on blues-based hard rock.
It is immediately clear Johns fits comfortably into his roll on Third Time is the Charm. Like a pre-Whitesnake Coverdale, his old school baritone rumbles over the record's opening cut "Even Now" while Dave Swart's galloping bass gives Chastain's guitar a run for the money. By the second track, you're convinced, if the band had added some keys, they might be in '74 Deep Purple territory. The slow grinder "Heaven Help Me Now," or the two-step "It's Not True," fuse together signature riffs and raspy vocals that keep the songs heavy, melodic and powerful. Drummer Mike Haid surfaces in his groove on the bitter, "I Don't Want You" then kicks it into overdrive for a roaring, "I'm Down."
SG's not your traditional southern rock like Skynryd, Marshall Tucker or Allman Bros, but more metallic - like Molly Hatchet or Blackfoot. "Caught you Red Handed" lays into a Charlie Hargrett meets Dave Hlubek-like hook and carries it right into "Broken Man." And just when you didn't think Chastain could play heavier, in comes "Don't Go" to tear the roof off. The songs seem much tighter this time around; less extended and more focused. It gives the listener a chance to key into the songs. The lyrics are stained with outlaw themes from "Going down to Texas" to the sexy "Love Train" followed by "Ladies of the Night." Once again Chastain proves he can do it all.

***********************************************

GUITAR WORLD/HOT SOUNDS
Get the inside scoop on what's happening this month in the guitar world!
Southern Gentlemen - Third Time Is The Charm
Leviathan Records
http://www.leviathanrecords.com

This release features two new band members, vocalist Eric Johns and bassist Dave Swart, joining forces with guitarist and founder David T. Chastain and drummer Mike Haid. Johns and Swart are former members of the Cincinnati, Ohio based band Simple Aggression. The music on Third Time Is The Charm takes the band back to the more structured songs that were featured on their 2000 debut CD "Exotic Dancer Blues."

***********************************************

Cincinnati Post
'Third Time' the charm for Chastain
by Rick Bird

While former Cincinnati metal and hard rock guitar genius David T. Chastain may have relocated his Leviathan Records to his native Atlanta almost 10 years ago, he still has plenty of tri-state musical ties from his more than 15 years playing the metal and hard rock scene here.
On "Third Time is the Charm," the latest CD from Chastain's group Southern Gentlemen, he hooks up with vocalist Eric Johns and Dave Swart, both former members of Cincinnati metal rockers Simple Aggression. Also on the project is Northern Kentucky native and Boone County High School grad Mike Haid on drums.
The result is a wonderful backyard barbecue boogie CD meant to be played loud to annoy your neighbors. Anchored by Johns' growling vocals and Chastain's sizzling guitar work, it swings a little more than Chastain's usual hardcore metal guitar riffs. There is that southern ZZ Top hard blues feel, but still plenty of Chastain's trademark piercing metal licks.
It's a great down-and-dirty release meant for summer-time cruising or rock 'n' roll cookouts.
The bad news is the band has no gigs planned in these parts as Chastain has reduced his touring schedule to concentrate on his studio efforts with his prolific guitar projects. Chastain last played in town a year ago for a reunion with Spike, his '80s metal band that had a loyal following in these parts.

***********************************************

ballbusterhardmusic.com
Southern Gentlemen
'Third Time Is The Charm'
by John Haseltine

Southern Gentlemen are back with their latest 'Third Time Is The Charm'. If you have not heard of these guys before, don't let the name fool you. They are not a country act. In fact far from it. The band consists of guitarist/founder David T. Chastain, Mike Haid - drums with new additions to band. Dave Swart - bass and Eric Johns on vocals. Johns vocals are the highlight of this album. Great he fits in perfect with this down-home fusion of heavily blues induced rock/metal. First reaction when I popped this one is was the debut album by Badlands. Very close in sound. Johns vocals are even just as close as Ray Gillen's. Chastain wants to introduce the band to more of those unaccustomed with the style of music. Not a problem here. It is a style that has been in the works for quite some time. Just the bands have been few and far between and not always up to par. Chastain and Co. have on their hands a real winner here. It's an upbeat, "lethal combination" of hard rock, blues and metal influences. Chastain adds,"Šit is definitely a modernization of some classic music. I think if people will listen to this CD without preconceived opinions, they will really like it." Well, that's how I headed into this one, and he's 100% correct. I really like it. It's a fresh twist in a genre that deserves some well received attention. Southern Gentlemen are just the band to fill the gap and bring their blues influenced hard rock to the masses. The vocals are exceptional. The rhythm section is precise and powerful. The guitar work, well, it's David T. Chastain. So yeah, magnificent works. Metal heads and rockers alike need to check this one out. You won't be let down. " Even Now, Broken Man, Don't Go and Reflections" are just a few standout tracks on this release. A must for fans of Deep Purple, Junkyard, Badlands as well as any fan of hard rock and metal.

http://www.leviathanrecords.com
http://www.southerngentlemen.com

***********************************************

1heavymetal.com
SOUTHERN GENTLEMEN
Third Time Is The Charm
Leviathan Records

The third release by David Chastain's Southern Gentlemen is more of the same blues rock. Fans of boogie bands such as ZZ Top and early Point Blank will find solace and comfort is the sweaty south Texas groove that is readily apparent throughout this disc. Songs of despair and women with bad intent are the name of the game. While this album is virtually the polar opposite of Chastain's work with CJSS and the band Chastain, it shows a different side of David's guitar mastery without walking over the other musicians. In all, a basic, no frills, meat and potatoes release with a dash of fine southern cooking.

***********************************************

Transcending the Mundane
Southern Gentlemen - Third Time is the Charm
Country: USA Genre: Hard Rock/AOR

Southern Gentlemen was put together by guitarist extraordinaire David T. Chastain (Chastian, C.J.S.S., Zanister, etc.) in the late nineties. David operated Southern Gentlemen as a three piece rock band with a strong blues influence as he doubled as lead vocalist. Southern Gentlemen released two albums; 2000's Exotic Dancer Blues and 2003's Double Your Pleasure. For Third Time Is the Charm, David decided to add two former members of Simple Aggression; vocalist Eric Johns and bassist Dave Swart- they join drummer Mike Haid to round out the line-up.
Chastain's vocals were more than adequate on the first two Southern Gentlemen discs, but Eric Johns is a natural fit thanks to his deep, yet soulful delivery. This disc has more power and more guitar solos than ever. Southern Gentlemen take an old school, back to the basics approach to their rock. There are no overdubs or multi-tracking so you can hear Chastain shred in all his glory. Haid and Swart lock into a nice groove right from the start ("Even Now") and provide a solid foundation. "I'm Down" and "Love Train" are good rockers and the band get really bluesy on the semi-ballad "Heaven Help Me Now," during which David provides a repetitive guitar riff. The lyrics are cliche filled and I have to laugh during "Caught You Red handed" as Johns sings about his best friend cheating on his girlfriend- all the anger's directed at the female, shouldn't he also be mad at his best friend? Oh well, this is a good time rock album with a legendary guitarist who shreds.
Album Score: 8 out of 10
Reviewed by: Brett VanPut

**********************************************************************************

Digital Metal
Southern Gentlemen - Third Time is the Charm


I grew up and still live in the South, and with that background, it's hard to dislike good, hard-driving Southern-fried boogie rock, and that's just what shredder David Chastain and his band Southern Gentlemen deliver on this, their third outing.
Two new members join the band for this record, vocalist Eric Johns and bassist Dave Swart, and they're both featured prominently in the early going as "Even Now" opens with a thumping bass line and Johns puts his impressive vocals to work. Johns' voice has a classic hard rock sound, similar to a David Coverdale, with just a little bit of Southern grit, perfect for the music.
The grooves continue on "It's Not True", which swings with a Stevie Ray Vaughan feel. A little bit of Chastain's former self comes through on the solo as he slips a little into shredder mode, putting some crisper, more angular licks in than you'd hear on most records in this vein.
There are some huge riffs and major grooves on this record for fans of the sound. I dare any self-respecting Southerner to not bob his head when listening to the opening of "I'm Down" or "Broken Man." And you can't help but be impressed with Chastain's guitar work as he takes a familiar sound and twists it into something just a little bit different.
Production by Christian Schmid gives the record just a hint of metal edge on songs like "Caught You Red-Handed" and "Going Down to Texas," but he doesn't try to overdo it. This is a Southern blues rock outfit, and to mess with that too much would mess it up.
Chastain says with the new additions to the band, he's finally found the right sound for Southern Gentlemen, hence the title of the record. I can't say that I disagree. If you're in the mood with some Southern-style heavy blues rock, you can't go wrong with this one.
By Fred Phillips

**********************************************************************************

Just For Kicks Music-Germany
SOUTHERN GENTLEMEN: Third Time Is The Charm THIS IS AS GOOD AS IT GETS for Powerful, soulful rocking ripping heavy blues rock!

**********************************************************************************

Rock and A Hard Place
SOUTHERN GENTLEMEN - "Third Time Is The Charm"
LEVIATHAN RECORDS

Even though I quite enjoyed the first 2 albums from Southern Gentlemen, I must agree, to a certain extent, with the album name "The Third Time Is A Charm". It seems it's creator David Chastain has moved the project further away from a genuine blues album to a hard Southern Rockin' project. As far as my personal tastes go, that's fine with me.
Chastain has chosen to bring in a new singer named Eric Johns from a Cincinati based Metal band called Simple Aggression. Not to take anything away from Chastain's vocals on the first 2 albums, but Johns does take the band to another dimension with his powerful voice and range. It's quite amazing how he takes to the music so well.
I consider myself a Metalhead and Rocker and have never been able to really appreciate Blues music. What Chastain and Southern Gentlemen really do well is make Blues more accessible to people like me who don't quite "get it". Chastain's chops are equally as tasty to me as Stevie Ray Vaughn or Kenny Wayne Sheppard. You can still pick out some of his Metal roots in the music as well which is maybe why I still continue to thoroughly enjoy this work. After all, there's no rules that say Blues can't pack a little crunch.

**********************************************************************************

Maximum Ink
SOUTHERN GENTLEMEN Third Time Is the Charm (Leviathan Records) A new vocalist (and bassist) can do WONDERS! Basically it's guitar driven hard rock headed by David Chastain, but the blues injection and metal edging are pleasing.

**********************************************************************************

THIRD TIME IS THE CHARM
Southern Gentlemen
Leviathan Records, 2006
Review by: Paul Hanson
Originally published: April 4, 2006

Southern Gentlemen welcome a new vocalist, Eric Johns, for the band's third release of metal/blues. While I didn't have an issue with the vocals of guitarist David T. Chastain on their previous two releases, I am glad that Johns is on board. He brings another element to the band's musical message.
Chastain, whose resume is long and impressive, wastes little time reconfirming he can still kick out a great solo. In fact, he lets loose in opener "Even Now," but is able to maintain a greater awareness of song instead of being a guitar-hero showoff on this release. That seems to be the theme for the band this time around, especially in the rhythm section of drummer Mike Haid and bassist Dave Smart, who provide an interesting foundation for Chastain. Throwing Johns into the mix makes this a very good listen.
What the SG have going for them is groove, especially on "Don't Go," the best song here. Chastain's riff is direct without a lot of flash and Haid and Smart lock in. This sets up Johns to sing a gut-wrenching tale about a woman leaving him: "Don't know what the Good Book says / 'cause it's never been read by me," he sings, as if his life depended upon convincing the listener that he is in agony over the woman leaving him. While the subject matter is not new, what is new is the way this song grooves. It's a slower tune with a lot of space where the message is allowed to resonate.
Another stellar track is the upbeat boogie-blues "Caught You Red-Handed," which is about walking into a room and finding your woman with your best friend or, as John comments, "My ex-best friend." The chorus of "I walked in the door and you're both on the floor / There's no way to pretend / I don't know why, there's no need to try /caught you red-handed with my best friend / My ex-best friend."
Another great track is "Broken Man." Chastain allows his guitar riff to breathe with pauses that Haid and Swart fill in with a solid groove. Perhaps the only misstep of the release is the closer "Ladies Of The Night," which sounds like something from the Slide It In-era Whitesnake. The track sounds out of place and the release would have been stronger if the band had ended the release with "Reflections." Lyrically and musically, this song would have been a better final statement in this chapter of the band's history. The song ends with an excellent guitar solo and a synchronized snare/guitar/bass fill that would have ended the release perfectly.
As long as I'm airing wishes, I wish the band would have made "Heaven Help Me Now" as a duet between Johns and Chastain. I think the guitar riff and Johns' vocals are a perfect union that makes the drums and bass unnecessary. Maybe they would consider making that song just guitar/vocals at any live shows they perform.
I liked the first two Southern Gentlemen releases, but pulling in Johns to do the vocals was a wise choice and could help the band's mainstream recognition. And for his part, Chastain provides enough guitar flash to satisfy students of his playing while also providing a feast for fans of hard-driving rock and roll with some blues.
RATING: B+

***********************************************

BRAVE WORDS & BLOODY KNUCKLES
SOUTHERN GENTLEMEN
Third Time Is The Charm
(Leviathan)

Reviewed by : Carl Begai
Rating : 8.0

While David Chastain will forever be known for his old school power metal tendencies, he once again delivers some meaty rock-oriented blues with Southern Gentlemen's latest outing, Third Time Is The Charm. A ballsier outing than their previous album, Double Your Pleasure, this one focuses more on the song than the feel-good jam, honouring the idea of traditional blues rock ditties versus trying to blow people's minds with technical prowess. Chastain isn't holding back by any means, though, dishing out massive leads all the way through and sounding like he's enjoying himself a hell of a lot more than he does within the confines of a metal production. The biggest kick, however, is the addition of vocalist Eric Johns, who has replaced Chastain behind the microphone. Those who remember early David Coverdale (pre-'87) would do well to check this album out as Johns' voice has that distinctive Coverdale rasp, giving the music a definite warmth. It's interesting to note that Chastain actually has a better blues voice - in a "nobody leaves here widdout singin' da blooz" kinda way (see Adventures In Babysitting) - while Johns' pipes add a stronger rock vibe to the music as a whole. A mid-summer beer-and-barbeque record, but guaranteed to appeal to the crowd at the after hours boozecan as well.

***********************************************

hellridemusic.com

Reviews - Southern Gentlemen Third Time is the Charm

On the latest offering from Southern Gentlemen, guitar virtuoso and Leviathan labelhead David T. Chastain is doing no vocals and playing guitar with Mike Haid back banging on the drumkit. David has very good guitar sound coupled with great technique!
Since Double Your Pleasure, Eric Johns has taken over vocal duties. I thought David did just fine. But David gets to concentrate on the guitar. And it pays off big time! Dave Swart plays bass this time around.
New vocalist Eric Johns kind of reminds me of David Coverdale crossed wth Robert Plant with James Dewar and David Chastain thrown in.
I miss the hot exotic dancers on the cover, but the music more than makes up for it!

To hit the Leviathan website and learn more; www.leviathanrecords.com

Darryl Baysinger

***********************************************

Metal Core
SOUTHERN GENTLEMAN/Third Time Is The Charm (Leviathan Records)
This was an amazing release to say the least. Pure classic metal with plenty of hooks, melodies and oh so great vocals. Eric Johns has a voice and that reminded me of Dio a bit and the guy can sing with much passion and emotion. David Chastain plays guitar on here and never sounded so good. The music is pure metal with no groove, nothing but just pure metal through and through. The production is perfect and any fan of metal will want and need this in their collection. Info: www.leviathanrecords.com

***********************************************

Guitar9.com
The music has hard rock, blues and metal influences exploding throughout the tracks - making for a lethal combination.

***********************************************

(Quintessence Metal Webzine)
SOUTHERN GENTLEMEN (U.S.)- "Third Time Is The Charm"
(2006 Leviathan Records)

If you haven't figured it out yet, the title says it all. The 3rd installment from the Heavy Metal meets Southern Blues Rock side band of Leviathan Records' and guitar phenom David T. Chastain stokes up yet another fine release. This one is easily the best of the three albums with 12 new tracks and adding in two new members, Eric Johns and Dave Swart. If you've been a long-time follower of the Leviathan label, you'll know these names from one of their bands called Simple Aggression. You're probably scratching your head thinking of Eric going from SA to doing vocals for SOUTHERN GENTLEMEN is a stretch? I was amazed too believe it or not, this guy can sing Blues like nobody's business and this isn't the Muddy Waters, B.B. King stuff, this is guitar-fueled, foot-tapping, "I wanna jam" kind of stuff that is so easy to get hooked on. This 52-minute release is one of the best guitar-driven, vocally smooth releases you'll here; it's almost like these guys belong together as a continual solid line-up. Think of a more Metal-ized version of ZZ Top, Dicky Betts and Molly Hatchet. I really hope David sticks with this line-up for at least one more album because the cohesion SOUTHERN GENTLEMEN have now is fantastic and this gives me more reason to listen to this type of music. Speaking of David T. Chastain, the soloing and riffwork on this album is definately one of his best. This guy is good period but for some reason he really sweated out his blood and tears on this one, my hat is off to him, I just poured myself a round of Jack Daniels, here's to ya bro and the rest of the band.

***********************************************

Metal Express Radio
SOUTHERN GENTLEMEN - THIRD TIME IS THE CHARM
LEVIATHAN RECORDS
Release Date: 2006-04-04
by: GARY McLEAN
Email: gary@metalexpressradio.com

What is the most dangerous animal on Earth? If one were to believe the lyrical content of Third Time Is The Charm, the (surprise!) third offering from Southern Gentlemen, it wouldn't be the lion or the tiger or the bear, but rather the human female. More on this later.
Southern Gentlemen is a four-piece outfit that plays Heavy Blues Rock. The lead Gentleman is guitarist David Chastain, a player whose name should be familiar to many Heavy Rock music fans. For Third Time Is The Charm, two new members take their places alongside Chastain and drummer Mike Haid: singer Eric Johns and bassist Dave Swart. Chastain also produced the album and takes writing credit for the dozen songs on it.
The Blues (and Blues Rock) revolve around heartbreak and heartache in equal measure. Southern Gentlemen know this, as lyrically, nearly all of Third Time Is The Charm's songs fit into one of the following categories:
A) man is heartbroken because his woman left him
B) man discovers his woman is cheating on him
C) man suspects his woman is cheating on him, but can't prove it
A song or two like this (or even a few) is a prequisite on any Bluesy-styled album, but nearly every song on Third Time Is The Charm is about one of these three things. This sort of repetition makes the album kind of predictable, as nearly every song is about the same thing: women (and best friends in some cases) can't be trusted.
What about the ones that can be trusted? They die tragically ("Heaven Help Me Now"). To hear Southern Gentlemen tell it, a guy just can't get a break no matter how hard he tries.
Then again, some people can't get enough songs about heartbreak, betrayal, and love gone wrong. If this sounds like you, then buy Third Time Is the Charm post-haste. Beer (to cry into), not included.
There are a couple of thematic exceptions though: a song about how great women from Texas are ("Going Down To Texas"), and how prostitutes should be left alone because they perform a valuable public service ("Ladies Of The Night"). Other than that, it's mostly "she done me wrong/she's gonna do me wrong as soon as she gets the chance" kind of subject matter.
That being said, Southern Gentlemen are rather good at this sort of music, which despite the descriptions above, still manages to be energetic, up-tempo, groovy, and moderately heavy on this album. Eric Johns has a soulful voice, which adds a lot of ragged charm and feeling to the songs. He might remind some people of a younger Paul Rodgers in places. His singing is one of the highlights of Third Time Is The Charm.
The other highlight of the album is David Chastain and his guitar: he never shows off, but at the same time shows why he's so revered, laying down lots of Bluesy guitar lines, nice riffs, and melodic solos that don't go on too long.
Is this Third Time really The Charm for Southern Gentlemen, or will it end in tears? If you're a Blues Rock fan who's hurtin' inside, this album will speak to you.
Check out Southern Gentlemen's official Web site, where Third Time Is The Charm is already available for on-line purchase.

***********************************************

A FAN'S REVIEW:
Hey David, I just received your copy of the upcoming SOUTHERN GENTLEMEN cd, and I am still in shock. This is not only your best S.G. , it it without a doubt one of the finest blues infused hard rock recordings EVER.
I'm from Colombia, South America, and I've been a loyal fan of your music for many years. I have thousands of cds ranging form blues to heavy metal, and from Fusion to Progressive rock, so I'm not a rookie that gets excited with every release out there. I even recall your instrumental masterpieces such as Instrumental Variations, Elegant Seduction, and later on your wonderful fusion recordings, under David T. Chastain, like Next Planet Please. I tried also some Chastain recordings but they were not my cup of tea.
Finally, I knew about Southern Gentlemen and I jumped to buy your first two releases and I was VERY impressed, I never thought you could play in that old, dirty, gritty, nd bluesy style. Additionally, the songs were awesome. However, I always thought to myself, what if they had a better singer???? I hope I'm not insulting you.....It s just that I've been a big fan of singers!!!!. Well, it seems you read my mind and when I got your advertising mail featuring the upcoming S.G cd I ordered it right away. I just can't believe I got in one day !!!! (that's fast considering I'm living in Houston).
Well, I already listened to it and I ended up breathless. The first thing I noticed was the sound mix, WOW, WHAT A SOUND, punchy, detailed, all the instruments in place, the vocals right were they have to be and RAZOR SHARP GUITAR RIFFS AND SOLOS.
The musical performances are wonderful and Eric John's delivery is unbelievable, he is not just a powerful singer, he also sings with CLASS, and you don't find that everywhere. Also, I remember Mike from the old Next Planet Please days, I as so glad when I saw he played on the cd.
I do not drink alcohol but this music is meant to be heard at least with a beer !!!!! I'm really impressed how you can manage to top yourself with every release, you talent is endless.
The music is reminiscent of those nostalgic seventies where blues and hard rock were kings, those days when Trower used to play in big arenas and when talent was the main thing. There's an overwhelming feeling throughout the whole recording, and we the fans can clearly notice that you play and composed this album with your heart and soul, and this is something that you don really see these days anymore.
I really hope to meet you some day in the future and who knows, maybe in a Southern Gentlemen concert in Houston???? there are so many clubs here!!
Thanks for providing us with your excellent music in all these years and most of all, thanks for your honesty. Obviously, there got to be anyone out there who don't like your playing and that's fine, but nobody ever would dare to say that David Chastain sold his soul to sell more cds.

PS. As you might notice, English is not my first language, so I apologize for any mistakes.
Mario Mejia

***********************************************

WORT (The Most Pit)
Southern Gentlemen
Third Time Is The Charm
Leviathan
52:26 - 12 Tracks
Another project from David T. Chastain. Kind of a bluesy hard rock sound. Kind of a good time drinkin' sound. Not much more I can say, good sounding production, some good ol songs, the singer sounds like David Coverdale a bit!

***********************************************

Anchorage Press (John M. James)
Southern Gentlemen - Third Time Is the Charm (Leviathan) with new vocalist Eric Johns and bassist Dave Swart, both formerly of Simple Aggression, now under the command of guitarist David T. Chastain

***********************************************

You can now download individual tracks or this entire Cd at itunes!!

Note: In order to purchase a song, album or audiobook on iTunes, you must have downloaded the iTunes software, which is available for free for PC or Mac. If you have not yet done so, click the link and downloading instructions will follow.