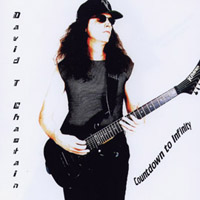 DAVID T. CHASTAIN 5/25/2007
Interview by Mike Greenblatt for Metal Edge Magazine
It's only taken 13 years, but Cincinnati Guitar Hero david T. Chastain has finally put out another all-instrumental album (Next Planet Please came out in '94). Countdown in Infinity is bursting at th e seams with thick muscular chording and a basic raunch that's as earthy as it is satisfying. Call him the anti-Yngwie! Chastain eschews mathematical progressions in favor of a building black DNA kind of Hard Rock. I've always wanted the various singers he's worked with to just shut up (except the sorely-missed Leather Leone). That's one of the reasons why this Cd is so pleasurable.

Metal Edge: Tell us about your new "Countdown to Infinity"
1) On the new "Countdown to Infinity" I play everything other than drums. The drummer on this Cd is Mike Haid. Mike has been recording Cds on and off with me for quite sometime. I believe this is Mike's best performance to date. He also plays in my band Southern Gentlemen with vocalist Eric Johns and bassist Dave Swart. That band is currently working on our fourth Cd.

Metal Edge: How long have you managed to stick around so long?
2) In regards to my longevity, I guess it helps to own 2 record companies (Leviathan Records and Diginet Music), so that I am free to record pretty much what I want without having to worry about how many Cds I have to sell before I get to put out another one. Of course running a couple of record companies is a major time consumer. In any case, I think the fans understand that I have never been that concerned with commercial success and record what I feel and when I have inspiration. I have also have been given a "gift" from somewhere that never shuts off that allows me to write new music anytime and anyplace. Of course that presents another problem ... which of it to record! Not that I am saying I am the musician that Frank Zappa was, but I think we share some of the same philosophies on music and business.

Metal Edge: Do you keep tabs on what else is happening these days?
3) I am not really that "tuned" into today's music as much as I was years ago. As time has moved forward, I care less and less about what other people are doing and concentrate more on my own little world. I must say, from what I do hear, most of the newer bands have some really good music but once those screaming garbled vocals come in I have to shut it off. With that said, there are still some great younger bands out there, such as Firewind, who continue to make quality music. In regards to the biggest change over the last twenty years I would say it is the vast number of new releases available today. It is much harder for a new band to get noticed in the major press. Lets say in 87 there were 100 metal Cds released a year, whereas today there are probably 100 a month. The proliferation of high quality, low priced digital recording equipment has made recording a Cd available to every Tom, Dick and Harry. That has a good and bad side to it. Of course the web has changed everything for everybody.

Metal Edge: Will we see you tour over this album?
4) I haven't really set out on a full-scale tour in years. I'll make an occasional trip here or there but nothing extreme. I have always preferred the studio to the live environment. Well let me clarify, I really enjoy the one hour on stage it is just the other twenty-three hours that makes touring such a drag. It is pretty hard to get me out of the house/studio/office. Plus on top of everything else, one of my New Year's resolutions for 2007 was to try to finish the books I started writing years ago.

Metal Edge: What kind of gear do you use?
Currently, in the recording studio I use a Line 6 POD and a Johnson J Station for guitar amp sounds. On rare occasions I use a Rockman, Lab Series or a Marshall Valvestate amp. If I play live I use a Marshall Valvestate amp with Marshall cabinets As far as effects go, in the studio everything is added after the parts are recorded other than an occasional wah-wah on a few tracks. Live the effects are minimal. Once again a wah-wah, and maybe a delay/chorus effect and a noise gate. I have never been into large racks of effects. Is that really necessary???





"Attack of the Mechonrites" mp3 from "Countdown to Infinity"
Other David T. Chastain releases at Leviathan Records.
David T. Chastain Interviews
David T. Chastain's releases at Diginet Music
David T. Chastain Interviews