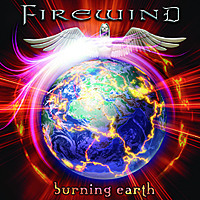 "Burning Earth"

FIREWIND's second Cd, "Burning Earth," will explode on impact with its heavy riffs, great solos, powerful melodic lead vocals, memorable choruses, excellent song structures and strong lyrical messages.

The music is a continuation from the band's breakout 2002 debut "Between Heaven and Earth." That Cd was universally hailed as one of the best of the year. The music on "Burning Earth" presents a more mature sound but still keeps the essence of what everyone loved about the first Cd.

The band is fronted by guitarist Gus G. and vocalist heavyweight Stephen Fredrick. The band's amazing new rhythm section is comprised of Greek bass player, Petros Christo (x-Breaking Silence) and Norwegian drummer Stian Kristoffersen (Pagan's Mind).

Gus G is the hottest new guitarist in the metal community and has built a name for himself in very short order on Cds with Nightrage, Mystic Prophecy and Dream Evil. He was recently voted one of the top guitarist in the prestigious "BURRN!" magazine in Japan.

On the "Burning Earth" Cd Gus wrote all of the music and Stephen wrote most of the lyrics and melodies. Stephen gave the best vocal performance of his long illustrious career.

High speed tracks such as "Steal Them Blind," "I Am The Anger" and "Burning Earth" should keep the Firewind fans worldwide begging for more and more. The track "Immortal Lives Young" showcases Firewind's more mature songwriting. The band also recorded what could be the anti-war anthem of our time, "The Longest Day."

Every track on the Cd from first to last is high caliber. Stephen's emotive vocals over the power riffs strikes the right balance that few bands can match. Gus G's solos have flash and emotion that few players twice his 23 years old can muster. A true "Metal Guitar Star."

The Cd was mixed by metal impresario Fredrik Nordstrom in Sweden at the world famous Studio Fredman. The legendary Eroc mastered the tracks in Germany.

FIREWIND and their new Cd "Burning Earth" make a natural transition that presents the band in full throttle and exploring the boundaries of metal with power, class, sophistication and intensity. FIREWIND is on the edge of becoming one of the top bands in the metal world.

There is no doubt that this Cd will stand the test of time and fall into the category of "Metal classic!"

Burning Earth 2012 Reissue!
Band photos
Firewind Interviews.
Band's official website!
GUS G "Guitar Master 2010 Remaster"

Guitarist Gus G's instrumental Cd!

You can now download individual tracks or this entire Cd at itunes!!





Chastain, CJSS, Southern Gentlemen, Zanister, David T. Chastain T-shirts and more!