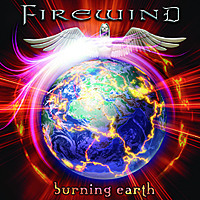 "Burning Earth: 2012"

This is a reissue of the FIREWIND's classic release "Burning Earth." The 2012 version has been remastered and there are 3 Bonus tracks. Here are guitarist Gus G's comments on the release:

"Burning Earth" was a very important step for FIREWIND as we needed to create an even stronger follow up to our debut album "Between Heaven and Hell". I wanted to create a killer record and finally get a chance to play some shows with FIREWIND and not be just a studio project.

I remember it was a very inspiring period for me and these songs came to me so naturally. It seems that these days "The Fire & The Fury" is a modern day classic instrumental track, but I almost put it together accidentally. I had this cool riff but wasn't sure I would make it a vocal track. I started jamming and the main theme just came out. It's no wonder this song is still a highlight of our live setlist and fans go crazy when we play it.

I did this record the exact same way I did the first one. I worked closely with producer David T. Chastain and co-produced the album with him this time. I wrote and recorded all music in my home studio in Greece and then David was in charge of the vocal recordings in Atlanta, GA. Stephen Fredrick was there once again to provide killer vocal tracks. "I Am The Anger" is one of his finest moments in my opinion.

Since my goal was to make FIREWIND a real live band, I searched around and got 2 new members in. I wanted to find people that were into joining a band, not just doing studio work. Enter bass player Petros Christo, who is the 2nd longest serving member in FIREWIND after me. One one of my European tours with DREAM EVIL, I met a drummer from Norway called Stian Kristoffersen. He offered to help out on the record and gigs, so at the time it was a great idea to get Stian involved as well. That team worked well on this record and once again we hired Fredrik Nordstrom to mix.

Our then Japanese record label must have loved the album, cause they invited me over to Japan for a promotional tour and we even got to shoot a killer video clip for "The Fire & The Fury". Shortly after, FIREWIND did their first tour ever in Japan to support the album and we brought a new member to the fold - keyboard player Bob Katsionis (who is also a core member of FW today). I definitely felt we were doing something different and more fresh within our genre and this is why this album has stood the test of time.

I still think to this day that "Burning Earth" is one of FIREWIND's finest musical moments.


You can now download individual tracks or this entire Cd at iTunes and Amazon.com!!


The Fire and The Fury is now available for ROCK BAND!!


Burning Earth Original Release!
Band photos
Firewind Interviews.
Band's official website!
GUS G "Guitar Master 2010 Remaster"

Guitarist Gus G's instrumental Cd!

You can now download individual tracks or this entire Cd at itunes!!





Chastain, CJSS, Southern Gentlemen, Zanister, David T. Chastain T-shirts and more!