JOE STUMP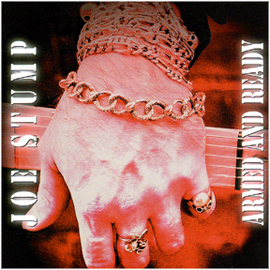 Armed and Ready
Joe Stump's new instrumental release, "Armed and Ready," solidifies Joe's firm hold as the most over the top rock guitarist known to man! Joe was recently voted one of the Top 10 shredders of all time in Guitar One magazine.

Citing influences such as Uli Jon Roth, Jimi Hendrix, Ritchie Blackmore, Michael Schenker, Gary Moore and Yngwie Malmsteen for this tour de force of guitar histrionics, Joe blazes through each of the 8 tracks with a no holds barred attitude. To even fathom that some of these tracks are first takes can only boggle the mind of the talent necessary to be so inventive, forceful, dynamic and emotional in this type of format.

This Cd was originally recorded as part of the acclaimed Diginet Music Guitar Masters series but all parties agreed that this Cd needed to reach a much larger audience and that could only be accomplished by a full fledge commercial release. The guitar series provided each guitarist with the same drum and bass tracks, played by Mike Haid and David T. Chastain respectively, and then each player added his own unique parts over the rhythm tracks.

Joe had this to say about some of the tracks:
ARMED AND READY- Kind of a dirty, bluesy hard rock groove. I'm laying into the tones really heavy on this one and keeping it more traditional in most spots. A heavy Gary Moore type of bit.

PRISONER OF TIME- A mid tempo old school hard rock type on this track. Think Rainbow meets early Michael Schenker group. I'm definitely going for the Schenker vibe in a huge way on this one.

MIND GAMES- I summoned up what I like to call the holy trinity of harmonic minor playing for influence on this track: Ritchie Blackmore, Yngwie Malmsteen and Uli-Jon Roth. These are the men that wrote the book on this type of playing.

CHASING RAINBOWS- Cool riff and cool melody as well. More of a straight metal type of thing here. With this speedy fast tempo it's a fun track to blaze it up on. My goal on this one was to make the playing totally over the top but still build it up and let it flow. HOT NIGHTS- This one gets close to many of the things on my solo records: dark harmonic minor, classically influenced playing mixed with speed-metal overtones.

DESTINATION- On this one I broke out my roto-vibe, my wide sweep Hendrix wah and went for the total Jimi type of psychedelic blues vibe. This one is my favorite track on the disc.

"Armed and Ready" builds on Joe's already amazing discography that started back with the ground breaking "Guitar Dominance" in 1993. When not touring and recording, Joe continues to be the head rock guitar at the prestigious Berklee School of Music.

JOE STUMP "Armed and Ready" should satisfy Joe's rabid fan base plus help him gain more fanatics and lovers of massive guitar to his ever growing legions.





Note: In order to purchase a song, album or audiobook on iTunes, you must have downloaded the iTunes software, which is available for free for PC or Mac. If you have not yet done so, click the link and downloading instructions will follow.