CORBIN KING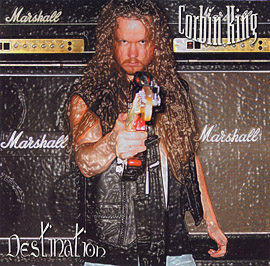 DESTINATION
Interview/profile by ballbuster.com

NAME:
Corbin King

PLAYING (YEARS):
17

STYLE:
Metal, Neo Classical, Rock, Blues

GEAR:
5 Custom Strats
Marshall JMP1 rack preamp
2 Marshall 9100 power amps
Digital Music Corp. Audio Switcher
Ground Control Midi Controller
Crybaby Wah
Overdrive 250
NS2 Noise Supressor
CH1 Super Chorus
DL4 Delay
4 Marshall 1960 Cabs
George L's Cables
D'Addario XL 10-52
Custom Dunlop Picks


ENDORSEMENTS:
I have some minor endorsement deals with some major companies but nothing full throttle.
Still looking for some cool companies to work with, just haven't found them yet.

PAST ACCOMPLISHMENTS:
Vainglory '2050'
'Diginet Music's Guitar Masters Series 2001'
'Diginet Music's Guitar Masters Series 2002'


CURRENT & UPCOMING PROJECTS:
'Destination' ( remixed and remastered with new art work, 2002 Guitar Masters CD )
Upcoming Heavy project with Stephen Fredricks
Upcoming Vainglory CD Upcoming Super Heavy Band with myself on vocals and guitar, tentatively titled 'Southern Pride'
Wrote the music to the song 'Signs' on Joacim Cans' soon to be released CD 'Beyond The Gates'


FAVORITE GUITARIST:
Used to be Yngwie Malmsteen
Zakk Wylde
George Bellas
Jason Becker
Joe Stump

MOST UNDERATED PLAYERS:
Myself
Joe Stump
George Bellas

BEST MUSICIAN YOU'VE EVER SEEN:
Bach, Beethoven, and Mozart have been long gone... Still waiting for someone to top them.

In regards to performance
Malmsteen
SRV
Zakk

FOUR WORDS THAT BEST DESCRIBES WHAT YOU WANT TO GET ACROSS IN YOUR PLAYING:
Passion
Emotion
Fire
Doom

YOUR HERO:
My Father

ULTIMATE GOAL:
To write, record, and release the absolute best music I can.

********************************************************

An absolute must have Cd for fans of exceptional instrumental guitar Cds!! Cd $9.99!