CORBIN KING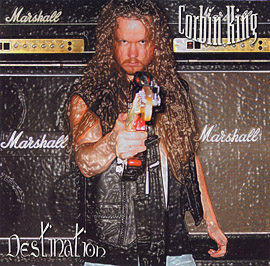 DESTINATION
Review 5/1/2004 by Ted Drozdowski of GUITAR WORLD Magazine

Breathlessly shredding his way toward the front of the new trad-metal pack, Vainglory fretman Corbin King kicks out the latest entry from Leviathan. He seems to have mastered every lick in the book: modal daredevilary, hi-octane sweep arpeggios, speed picking, unhinged improvisation. Corbin packs all this and more into eight savage minutes of "Hot Nights." Other highlights include the churning, blues-anchored Deep Purple era Blackmore tribute "Hurricane X" and "Mind Games" an insane harmonic minor scale blowout. Destination? King is already there.
***********************************************************

Metal-Rules.com
Corbin King - Destination
May 2004 | Released: 2004, Leviathan Records | Rating: 3.5/5 | Reviewer: Rick

The latest release in Leviathan Records Guitar Masters series is DESTINATION by Corbin King. For those who don't know, the Guitar Masters series is a set of releases that feature a star guitar player creating his own guitar tracks and laying them over a number of set backing track. The artist is free to interpret the backing music in whatever way he sees fit. Because the track listings and song names are the same on each Guitar Series release it is easy to compare how different guitar players approach the creative process.

"Mind Games" opens the disc with some serious shredding. King takes a similar path to Joe Stump who also came out ripping on this track but King tempers the whole sound with some great wah guitar. "Day of Doom" is one of the songs in the series that seems to create very different interpretations among the artists. Michael Harris created a very bluesy piece while Stump continues on with his aggressive attack even while keeping his playing subdued. King for the most part stays away from the blues in this and though he continues with his forceful style he brings in a massive amount of melody which reminds me a little of early 80 Scorpions. The strongest track on this CD has to be "Hurricane X". King takes this track and turns what could have been a shred fest into possibly the most solid "song" on this CD. I could see this tracks, sans a couple of solo and some added vocals, as being classic headbanging track.

This is the third disc that I have reviewed from the Guitar Masters series and it still amazes me how a basic backing track can inspire such greatness from these amazing guitar players. Corbin King is the main man behind one of the best up and coming young metal bands today called Vainglory. Hopefully that unit will have new material out soon but in the interim DESTINATION is a great way to hear the amazing guitar talents of Corbin King.
***********************************************************

Review 3/17/2004 by Todd Smith from TheCutting-Edge.net

Continuing as part of the Guitar Masters series from Leviathan records comes the dominant guitar shredding of Corbin King. The axe-wizard hails from the ranks of Vainglory, a Georgian outfit with a knack for orchestrated metal with an epic background - their last outing, 2050 hailing the return of musical Sci-Fi fairytales. Corbin chops embrace a myriad of influences from hard rock to heavy blues to straight ahead metal. With Destination Corbin was given a handful of basic tracks and challenged to paint a canvas using his guitar prowess and all in one take!

For the most part, the record stands up to others who have attempted the same complex experiment including Michael Harris (Hurricane X) and Joe Stump (Armed and Ready). "Mind Games" cuts out of the gate like an untamed bull. King's figures are flying, as his frets must have bust into flames. Not once in the song's six and a half minutes does he lose the plot. The same stands true for "Hot Nights" with the warning "this is not for the faint-hearted". These two song clock in at over six minutes are packed with more notes that ten CDs. "Prisoner Of Time" pulls back a bit, finding a rock solid blues riff and remaining expressive and passionate.

With "Day Of Doom" King digs up some old Black Sabbath-type licks to give the song a stoner feel. He does a fantastic job firing off shards of notes into the belly of the lumbering beat. Extremely well done! As with Michael Harris, King hits his stride with "Hurricane X". Latching onto a melody as he pushes and pulls the song in a number of different directions, pacing it just right and bringing in a blinding finish. A tad bit of Hendrix haunts "Chasing Rainbows" as the guitarist works off the drum and bass line to fuses in a healthy foundation of groove. Both "Armed and Ready" and "Destination" embrace a heavy blues vibe. They build slow with a thick bottom end before becoming a lethal hard rock monster. A very nice addition to the series.
Todd Smith
***********************************************************

Review 5/1/2004 by Chris Forbes of MetalCore
CORBIN KING/Desatination (Levaithan)
This is an all instrumental cd of some good soild rock music. The guy who plays guitar can really play a lick and he sure knows his chops. The songs for being without vocals are very memorbale and you can just feel the emotion as he rips off the riffs. Love the 2nd song. What emotion. Info:
www.leviathanrecords.com
***********************************************************

Review 3/20/2004 by Torch from Rock Hard Place
CORBIN KING - "Destination" - Leviathan Records

Leviathan Records continues it's "Guitar Masters" series with Corbin King, most notable for his project Vainglory, also released on Leviathan. Guitar Masters" is a project constructed by David Chastain of Leviathan Records. This is the third in the series, Michael Harris's "Hurricane X" and Joe Stump's "Armed And Ready" have come before it. The guitarist have been given the same bass and drum tracks and instructed to come up with their own guitar parts. It's a great challenge and makes for some very tasty playing.

To the guitarist's credit, I have yet to notice these are the same bass and drum tracks, which shows their amazing abilities to make the songs all their own. Even though Corbin King's style may be bluesier than that of Harris of Stump, it feels and sounds more aggressive than than the other guys albums. King's style is probably closer to a Zakk Wylde than a Yngwie Malmsteen and even on the slower material he really tears into the songs with unbridled emotion.

The track "Hot Nights" particularily blew me out of the water with it's 8 minutes of blistering, yet emotionally charged guitar work. "Hurricane X" was next on my list and probably the most "Metal" of the cuts, or at least part of it. If we even got a shred of this style from a modern rock band I'd be happy. King blends speed with feeling so anyone who bitches about him "showing off" simpley doesn't get it. For those more into the bluesier side of guitar, "Prisoner Of Time" provides over 7 minutes of Vaughn infused blues based guitar. Even on the slower cuts, King never looses his intensity which seems to be his trademark.

Overall, another strong and necessary release from Leviathan Records, the premiere label for Hard Rock and Metal guitar. While you're at it, pick up the other two in the series from Michael Harris and Joe Stump for hours of some of the best damn playing you're ever gonna hear.
**********************************************************

Corbin King - Destination (Leviathan Records)

By Darryl Baysinger for Hellridemusic.com on 3/27/04

This CD is one in a series called Guitar Masters. Conceived by Leviathan label head and guitar extraodinare, David T. Chastain.

The series features the same backing tracks on each CD. The guitarists lay down original recordings without having heard the others beforehand. Two thirds of Southern Gentlemen play backing. David T. Chastain plays bass and Mike Haid on the drums.

The guitar playing of Corbin King is phenomenal. A little on the metal side with plenty of shredding but delving into the blues realm, some neo-classical Yngwie -style fretboard riffing, and lots of soloing done with feeling and great technique. No vocals here, just great guitar playing.

Corbin King delivers some amazing guitar playing here. Every track here is a smoker. His playing will sometimes make you think of Blackmore, Zakk Wylde, Yngwie, M. Schenker, Hendrix and other giants. But by listening to this CD you will hear Corbin King himself is a giant. This reviewer hopes he will get the opportunity to review others in this series.

Darryl Baysinger
********************************************************

QUINTESSENCE METAL WEBZINE
The guy is really good and shows alot of flash and different styles like Blues and melodic material but the overall emphasis is the Neo-Classical.
********************************************************

Hello Friends...I just received the new Corbin King CD from you guys and am on the third time through already...I LOVE this series of releases!!...Thank you....JRRBLL -Radio Station WKLL
*************************************************


An absolute must have Cd for fans of exceptional instrumental guitar Cds!!!


CORBIN KING "Destination"
Corbin King's VAINGLORY Cd!!