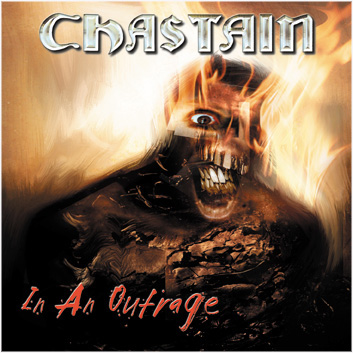 In An Outrage

Metal legends, CHASTAIN, return with a vengeance on their newest recording "In An Outrage." Joining guitarist David T. and vocalist Kate French are new additions, drummer Larry Howe and bassist Dave Starr. You may recognize their names as they were the rhythm section during the "classic" Vicious Rumors' years.

"In An Outrage" is the band's first release since 1997's "In Dementia." "In Dementia" rocked the metal world with its intense sophistication and Kate's dominate voice.

David states, "In Dementia" was the stepping stone from pre-Kate CHASTAIN to the current model. We are now touching on influences that run the gamut of old school and new school metal. It was strange that some of my solos on this new Cd sound like they were lifted from my "Instrumental Variations" Cd in 1987. I have no explanation for that. Overall the sound of the Cd is very strong. Probably the best mixed Cd of the CHASTAIN discography."

Kate furthers describes the new Cd, "I think by far it is the best lyrically written CD I have ever done. As for the vocals...I've added a lot of dynamics this time. I tried to mix sensuality and passion with strength. Kind of like Dio meets one of those phone sex women. Heavy meets seductive and breathy. It's hard to imagine, you just have to hear it, it's unique! Musically, this one is definitely the best CD I've done with CHASTAIN."

Kate, who wrote all of the lyrics adds, "I tend to write about things that happen, or people that effect me. I'd say 90% of the time that is what I write. I release my emotions through my songs. When you're writing about personal experience it gives the listener a chance to relate."

The dynamics on this release are very apparent from acoustic intros, heavy 8 string bass, crunching guitars and full all out double kick drum madness. Picking a high point from the 10 very strong tracks on the Cd is very difficult for CHASTAIN.

David states, "I tend to favor the heavier, slower and moody types of tracks. There are 3 on this one that rate with the best of all the CHASTAIN stuff throughout time."

CHASTAIN originally recorded their first Cd in 1984 and it was released in 1985. Therefore the band is approaching a 20 year milestone. The band has a legacy of 7 great Cds spread over that time frame. "In An Outrage" makes a major contribution at number 8.

Members of CHASTAIN have gone on to play with acts such as Alice Cooper, Cinderella, House of Lords, King Diamond, Cannibal Corpse and many more. CHASTAIN's music has been covered by numerous metal bands with Hammerfall being the most recent to do so.

David comments, "If you would have asked me back in 84 did I think there would still be a CHASTAIN in 2004 I would have laughed at you. I have a tendency to move from musical direction to musical direction at the drop of a hat. However this lineup has what it takes to be the best CHASTAIN line up of all time.






Chastain Video!
New Chastain Photos
In An Outrage Reviews!!
In An Outrage Magazine Ads!!
In An Outrage T-Shirts
Chastain info