CORBIN KING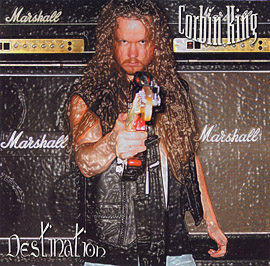 DESTINATION
Interview on April 24, 2004

1. We understand that on Destination you were provided the same bass and drum tracks as Michael Harris "Hurricane X" and JOE STUMP "Armed and Ready." What did you think of those Cds compared to yours.

Well...I've got a copy of Joe's cd and I've heard just small parts of Michael's...and all in all I'd say they are definitely different than mine. That's the great thing about it all...even though the under lying tracks are the same...our personal differences in style and composition make all the cds sound completely different.

2. Tell us how you went about tracking the Destination Cd?

I transfered all the supporting bass and drum tracks into my recording format at my studio and then got to work on the guitar stuff. I spent a lot of time on the tones and over all sound of the guitar...it was a tough balance to find. I wanted enough distortion to really drive with but also for the tone to be clear and clean enough to let every note be heard with no mush or over saturation. So..it's kinda like a clean distortion, if that makes any sense? Then, once I found the tone that set well with my ears...I began jamming over the tracks countless times over and again...until I got the foundation and general ideas of where I was headed with each song and what I wanted to get across. I would then do "live jams" with the tracks where I would actually be recording the parts as I was playing.

3. Where did you draw inspiration for the tracks.

From various places. Sometimes from other music that I like...sometimes from taking long breaks from playing and starting fresh...sometimes from just things that happen to me in my everyday life. I can't quite pinpoint where each time the inspiration comes...I have even gotten inspiration from the lack thereof..kinda crazy!

4. What gear did you mainly use on this Cd?

I used just one of my Strats and my POD 2.0. All the effects and other additives were from my Roland recording system. Everything was pretty simple and straight forward...I hate a lot of over processed things and junk sounds that hide your playing.

5. What scale do you consider the most useful on this Cd?

Anything minor. There were tunes where I got to go the whole Harmonic Minor route..and others that stuck to more Natural Minor and Pentatonic Minor. An occasional Major phrase and some Chromatic passages..but I'd definitely say that there is a Minor tonality to a lot of it.

6. What is your favorite track and why.

I like Huricane X a lot at the moment...It just has the whole rock thing down really well...it flows and it smokes! It has a ton of attitude and feel...and the tones are killer!

7. Of all of your music you have recorded to date, is there one track you are most proud?

Yes. The funny thing is though..it hasn't been released yet. Even as much as I love this Destination cd and the other things I've done..the true magic and comepletely mind blowing playing and performance is on the upcoming Vainglory cd. I listen to those tracks every now and then as the vocals are being finished, and it just floors me everytime...some really killer guitar on there for sure...everything on that cd is killer to be quite honest!

8. We hear you have a new band with vocalist extraordinaire Stephen Fredrick. Please give us a synopsis of the music.

Heavy, massive tones, amazing drumming, very dynamic vocals...it's just a great mix of many great components. I can't wait until it's released!

9. We also hear you are going to make you singing debut soon with another band? Tell us more.

Oh yeah! Better get ready! Imagine Black Label Society..but a lot better musically and even vocally. This cd will more than likely be the one that sets me apart from everyone...it's all from the heart and couldn't be more full of emotion and my passion for music. It should make clear just how I feel.... and I promise it will leave goose bumps down your spine.

10. Any final words on CORBIN KING "Destination" that you want to impart?

Just the fact that I am truely greatful to have these opportunities to play guitar and release cds. It is a blessing and I appreciate everyone along the way that I have met and that has supported me in one way or another. Its to them and people like them that I owe it all to. I just try to stay on top of my game and to make music that will touch someone and be special to them in some way. I'm just an artist that wants to leave a little bit of magic and energy behind that others can enjoy and draw from to make their lives better in someway.
Thanks again to you all!!

********************************************************

An absolute must have Cd for fans of exceptional instrumental guitar Cds!! Cd $9.99!





Reviews of CORBIN KING "Destination"
CORBIN KING "Destination"
Corbin King's VAINGLORY Cd!!