CORBIN KING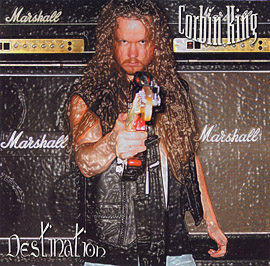 DESTINATION
Interview on May 12, 2004 by Thiago from Whiplash.

- The first album you bought (rock / metal)

Rock: Led Zeppelin II
Metal: Metallica- Creeping Death

- Your Top 5 rock / metal albums of all time

In no particular order....
Metallica- Master Of Puppets
Yngwie Malmsteen- Rising Force
Zakk Wylde- Book Of Shadows
Testament- Practice What You Preach
Guns N Roses- Appetite For Destruction

The last album you bought (brief comments on it)

Black Label Society- Hangover Music Volume VI It must be nice to be secure enough in your career to release and album like this.

- An album that changed your life (why?)

Yngwie Malmsteen- Rising Force
When I heard this stuff I was floored...like everyone else was when they heard it...only some won't admit it. I am thankful for this CD because it really paved way for a whole new style of lead guitar and flavor to metal music.

- The album that you listened to more times in your life

Probably some Metallica CD during high school or something...I wore that stuff out. Other than that...hahaha probably some of my stuff just because I listen to it over and again so many times until I'm happy with it...I literally make myself sick of it sometimes!!

- The better artwork for the frontcover of a disc

I have no idea...I've seen a lot of cool ones over the years...and some bad ones too!

- An album that you would give to your biggest enemy

Any of the local Atlanta bands CDs that I've gotten the displeasure of hearing at some point. Talk about some horrible 'music'....arggg....

- An album that you would like to have recorded

Maybe the Halford Resurrection CD...some really cool tunes there...I think some of the guitar could've been better though.

- Four bands that you would call for a festival

Joe Stump's Reign Of Terror
Yngwie's band
Black Label Society Testament with Alex Skolnick

- A band that definitely should call it a day

Vicious Rumors

- Three bands that you'd like to see doing a reunion
Helstar
Forbidden
Testament With Alex Skolnick

- An album of the 70's that you recommend

Led Zeppelin II

- An album of the 80's that you recommend

Master Of Puppets

- An album of the 90's that you recommend

Magnum Opus

- Three metal anthems... (name of the songs and by who)

Rainbow In The Dark- Dio
Master Of Puppets- Metallica
Livin After Midnight- Judas Priest

- Three songs that you like to play most (Vainglory)

Mastermind
Walking Dead (New)
Burdened (New)

- A song that better define your career (being yours or not)

Decapitation Attack (New Vainglory)
Southern Pride (New Corbin King song)

- A song you really like, but you can't understand why... it's horrible and you know that!

Teaser- Yngwie Malmsteen

- A guitarist that definitely doesn't please you

Most any of them

- Complete this sentence: "I'm so fan of this band, that I'd buy their tribute album to Kenny G"...

Black Label Society

- Time to choose... (give a brief comment on your choice - you must have one even if you like both - if you don't like any of the mentioned, just say none and give some comments)

* Olaf Lenk (At Vance) or Glen Drover (Eidolon / former King Diamond)
I've heard Glen Drover on a King Diamond CD...and I love King...so I'll go with him.

* Stephan Forte (Adagio) or Sami Virtanen (Kotipelto / Warmen)

I've heard the name Adagio before..but couldn't tell you anything about it...so I'll say neither.

* Thorstein Aaby (Pagan's Mind) or Hugo Mariutti (Shaman)

What?

- A song that you'd like to be played in your funeral

Fredrick Chopin's Funeral March

- What would you like to write on your tombstone?

Better get outta my way
Or there'll be hell to pay
Don't be crossin' the line
Taste my Southern Pride

- OUT OF THE BLUE QUESTIONS

- If you could start a project like the G3... besides you, mention two guitarists that you would to share the stage with:

Joe Stump
George Bellas

- Besides your active projects, a band that you would like to be in sometime (in dreams, or for real, whatever!)

Ozzy's band

********************************************************

An absolute must have Cd for fans of exceptional instrumental guitar Cds!! Cd $9.99!





Reviews of CORBIN KING "Destination"
CORBIN KING "Destination"
Corbin King's VAINGLORY Cd!!