CORBIN KING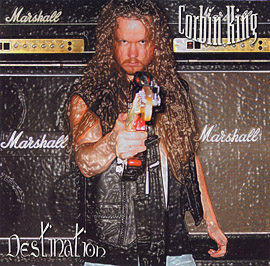 DESTINATION
Interview on October 24, 2004 by Nick Hinton from VIRTUOSA.

1) Tell us a bit about where your from and what its like to live there

I am from the suburbs of Atlanta GA, USA. A Southern guy thru and thru...I love it here. There is a period of humid and hot weather about 2 or 3 months of the year, but the fall and spring brings some of the best weather I believe anywhere. The winters are usually mild also...only gets really cold a time or two a year if that....

2) What made you pick up the Guitar in the first place

My mom's albums. When I was young I got exposed to all the Led Zepplin albums, Alice Cooper, Ted Nugent, Frank Zappa, Aerosmith, Hendrix......I would say though the memory I have of first being 'inspired' to play a guitar was from Led Zepplin 2...the solos on 'Whole Lotta Love' and 'Heartbreaker' made me want to be a rock star guy playing an electric guitar.

3) How would you describe the music you make and your playing style

I would say for the most part the music I make, and or, hear in my head is definitely metal. Through the years my influences changed and became more intense along the way...from Page to Malmsteen is kinda the path I took. I have always been attracted to metal music...the power, the feeling it gives me...the guitar tones...it's just killer stuff! My style has changed along the way too...and I feel is just now really becoming that of its own. I have certainly been influenced the most by Yngwie...and the neo classical style in metal. I also have a side that is into more simplistic phrasing and that sort of thing like SRV. I think he was a spectacular musician and conveyed huge amounts of emotion through his playing. I think now I have reached a place in life that all my past influences are coming together, not so much in direct sound anymore...but just as a tool for inspiration and are now letting my voice come out. I have gained from them the things I needed and learned the things I needed too. What I'm hearing and feeling now is what Corbin sounds like...as I am no longer worried about how fast something is or isn't...I don't care anymore. I know that what I hear and feel inside is going to be the winner...and I have alot left to tell....you'll see.

4) What guitars and gear do you use

All my guitars are pretty much Strats. I just can't find a guitar that feels as comfortable to me and what I've gotten used to. My technique relies partly on the flat top of a Strat...I have a difficult time playing arch top or carved top guitars as it makes my wrist bend at an angle and just doesn't feel right. I would love to find a company that would work with me on a custom guitar because I have some great ideas on how to achieve a great feeling and playing Strat style guitar. I customize all of mine personally...I have been trained to do these things in the past and I always love working on guitars. What will probably happen is I will build all my own in the future. I change certain things about the stock Strats and would love to just build one from the ground up like I feel it should be. For recording I have used a POD 2.0 for everything minus the 'Vainglory 2050' cd and the 1st Diginet Music Guitar Masters cd. My 'live' set up consists of a Marshall JMP1, 2 Marshall 9100 power amps, 4 Marshall cabs, and various rack and pedal effects...like overdrive, noise suppression, delay, wah....I call it the rig of doom! hahah

5) How did you hook up with David at Leviathan Records

I met David years back in Atlanta at a Savatage/ Exhibit A show. I am a big fan of Skolnick and his band ( Exhibit A ) was opening for Savatage, which he was pulling double duty with playing guitar with them also. I saw David hanging out there and I just went up to him and introduced myself. I was pretty young...like 20-21 or something and he was extremely nice and gave me his business card and told me to call him. I did and the rest is history.

6) Was it nerve-wracking laying down your solos for the guitar masters series, knowing you were up against the likes of Joe Stump and Micheal Harris

No, not at all. I never think about that sort of thing. I know I can hang with anyone in regards to technique or ability to play the guitar...but it's not even about that....I just go in and do my best at that point in time and that's all I can do. I just focus on the song and making things cool and interesting and try to use my abilities as a tool to get the job done as best it can be. Plus...I've written Joe a few times and he's a very cool guy...I think we'd get along great if we were to ever hang out. I don't know much about Michael...but his brother Brian played drums for Vainglory's CD and if he's anything like his brother...he's a very cool guy also.

7) Do you think instrumental music is at last, getting a wider appreciation these days

I think instrumental music had its big day a while ago...I feel there is a certain market still left out there for it but it's not as easy any more to become well known or as big with it as once was possible.

8) Do you have plans to record with a band project at any stage in the future

Of course! I have my band Vainglory...we are in the very final stages of the recording process for our upcoming CD. This thing will kill you. I kid you not. The best playing I am capable of...the most killer vocals from Kate French.....I can't say enough about it. I am extremely anxious for its completion. I also just did a CD with ex Firewind singer, Stephen Fredricks. This is some heavy stuff....he has a great voice also. The other thing that I had the pleasure of being a part of was Joacim Cans' solo CD 'Beyond The Gates'. Joacim used a song I wrote for the CD...the track 'Signs', check it out! Last but not least is a little creation all my own. It's called 'Southern Pride'. Its my answer to Black Label Society. I love that stuff....but this has my twist on things....some better tunes, guitar playing, and a real southern attitude. There's no faking it here!

9) What do you do to relax

Drink beer. Play guitar (sometimes!)....Probably more than anything...just being quiet...the world could use a whole lot more being quiet in my opinion.

10) What are your 5 favorite shred albums of all time

Yngwie J. Malmsteen's - Rising Force
Jason Becker - Perpetual Burn
Marty Friedman - Dragon's Kiss
George Bellas - Mind Over Matter
Yngwie Malmsteen's Rising Force - Attack!

********************************************************

An absolute must have Cd for fans of exceptional instrumental guitar Cds!! Cd $9.99!





Reviews of CORBIN KING "Destination"
CORBIN KING "Destination"
Corbin King's VAINGLORY Cd!!