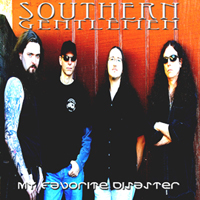 Eric Johns & David T. Chastain Band on Band Interview


EWJ: You have been able to work with lots of really amazing musicians throughout your career. Who has been your favorite person to collaborate with and why?
DTC: Surprisingly, foremost I enjoy writing lyrics and melodies for other bands such as Firewind, Kinrick, Kenziner, etc. I seem to have different ideas when working that way. With that said I have been fortunate to work with lots of great musicians over the years. I can't really say anything negative about any of them... so I guess they have all been positive. Everyone brings something different to the table.

DTC: Was there one event or concert that made you want to become a singer?
EWJ: I was always around music as a small child because my mother is a musician. My parents always say I was singing gibberish even before I knew how to talk. I think, though, what really made me think of singing as something I wanted to do as an artistic outlet came very young. My father had a huge collection of records and I was allowed to go through them and listen to whatever caught my interest. I remember really being blown away by the Who's Next LP when I was maybe 6 years old. Hearing Roger Daltrey do those screams in "Baba O'Riley" and "Won't Get Fooled Again" just did it for me. I just knew I had to do something like that.

EWJ: Which version of the new Southern Gentlemen record, "My Favorite Disaster" do you prefer?
DTC: Well... that is a question I can't answer at this point. I usually don't have an objective take on a CD for years after it is released. By the time a CD is released I have heard it 100s of times so at that point I just want to "get away from it for awhile and try to forget it." I haven't counted recently but I am sure I have released over 50 CD's thru the years. Sometimes when I listen to one of my old CD's it is almost like hearing it for the first time! I have a form of musical amnesia which comes in handy at times.

DTC: Who has been your main vocal influence(s) and why?
EWJ: Certainly my first main influence was Ronnie James Dio. I couldn't even begin to calculate the hundreds of hours I have spent listening to his voice and practicing to his songs. He was a true legend in every sense of the word. There are tons of other singers that I love and listen to all the time, but the only other really big influences that come to mind right now are Chris Cornell and Warren Haynes. Both of those guys love the blues, but bring their own thing to it. Obviously, they both definitely spent some time at the altar of Led Zeppelin learning some of those Robert Plant chops, but they both take what they learned there in their own unique directions. I have learned a lot of technique from listening to both of them and I respect them both immensely as vocalists.

EWJ: With all the records you have done over the years, do you have a favorite album that stands out in your catalog of work?
DTC: I don't really have an all time favorite. For every act I have favorite CD's. I have one or two for Chastain, CJSS, Southern Gentlemen, Zanister, and my instrumental stuff. I guess if today someone put a gun to my head and said "I could only take one CD of mine to a deserted island," I guess it would be my instrumental CD "Next Planet Please." However, I must admit, that answer might change tomorrow.

DTC: What do you consider your first "real" band and who was in it?
EWJ: Technically, I think my first "real" band played together when I was in high school since we actually did play some paying gigs. I think I was 16 the first time I actually played in a bar. I am pretty sure it was the Top Hat club in Newport, KY. Fake ID's were pretty easy to get back then. I can't recall for sure the name of the band as we changed it about 50 times or something like that. I do remember the lineup though. The bass player was Todd Short. Last I heard he was playing guitar in a project with Randy Piper (formerly of WASP). The guitarist was Brian Little. I don't know if he is doing anything musically these days, but he was singing for a cover band in the Cincinnati area called Saving Stimpy for a while. The drummer was none other than a young, but still every bit insane, Jerry Beard. He played with me in quite a few other bands over the years, but I think his best work was his own band, Mercy Suicide. There were one of the most original, coolest acts I have ever seen come out of Cincinnati.

EWJ: Do you have a favorite guitar that you play more than the others in your collection?
DTC: I seem to prefer the older Kramer guitars although I have a room full of the newer ones. It really depends on the act/style as to which one I use. A couple are more "metal sounding" than the others... but for the last 20 years it has been pretty much Kramer electrics.

DTC: Which track from your Simple Aggression "Gravity" CD was your favorite?
EWJ: Probably "Devotion" is the one that most stands out these days as my favorite. Back in the days when the band was active and playing regularly, I probably would have picked either "Lifeguard" or "Eternity: Suite." Mostly, that is because I really enjoyed performing those two songs live.

EWJ: If you could work with any artist alive or passed away in a "dream project," who would you choose?
DTC: I had always wanted to record a CD with Ronnie James Dio but that is about the only person I ever "dreamed" about in that context. I have usually had pretty stellar people playing with me so I was never desiring more than what I already had available. I found out through time that workable personalities bring forth more harmonious results than just extreme talent alone.

DTC: You have now appeared on 4 Southern Gentlemen CD's, list them in your order of preference with a brief statement on each.
EWJ: My favorite is probably "Valley of Fire," not because the songs are any better than the other records, but because it was so much fun to make. Anytime I hear the music from that record, I am reminded of all the fun stuff that was going on at that time. I don't really have a preference between the two versions of "My Favorite Disaster" that have been released. Some songs really do benefit from the re-working that David T. gave them on "My Favorite Disaster: The Heavy One." The added layers of guitars and restructuring of some riffs definitely took the songs to some very different, very cool places. On other songs from those sessions, I tend to prefer the more stripped down versions. It is still a hard record for me to listen to because of the subject matter I wrote about lyrically. I am hoping in time to just be able to enjoy the music without being reminded of the events and people that inspired the songs. I think it is a really good record, but I am still too close to it. I probably listen to "Third Time is the Charm" the least of the records in our catalog. There are some really good songs on there, though. Sometimes a track off that CD will come up when I have my MP3 Player on random shuffle. I always am pleasantly surprised at the song. It's cool to hear one that I haven't listened to in a long time and think, "Oh yeah, I remember singing that..."

EWJ: If you could pick a song off the new Southern Gentlemen record to be a radio single, which one would it be?
DTC: I would have to say "Roses and Thorns." That track is pretty straight forward and rocks in a mid tempo fashion and has a pretty good hook to it.

DTC: If you had to play one Southern Gentlemen track for your audition for a major band, what would it be and why?
EWJ: This is a really tough call to make. It would either be "Land of Canaan" off "My Favorite Disaster" or "Bitter Harvest" from "Valley of Fire." I like how many places vocally I get to go in both of those songs. I get to stretch a lot and show some of my low register voice as well as some of the big high notes in those songs. Lyrically, I connect with those songs deeply, as well. I think the most important part of any vocal performance is feeling that the person singing really is feeling the words; the emotion has to be genuine. I think those two songs give me the best chance of pulling that off.

EWJ: Is there any new music you've heard recently that inspires you?
DTC: About the only music I regularly listen to besides my own stuff I am working on, is JS Bach piano pieces. I have them on an endless loop at the house. I hear a lot of other things once and that is about it. I appreciate great vocalists no matter the style.

DTC: What was the most memorable live show you have ever played?
EWJ: I don't know if I could pick just one. There have been so many great shows over the years for lots of different reasons.

EWJ: Every songwriter I know has a different answer to this one. The eternal question: Who do you like better, John Lennon or Paul McCartney?
DTC: I was never a big Beatles fan. Too light for my taste. With that said, they both wrote some great songs as well as some stupid silly songs. "Yesterday" will probably stand for eternity along other timeless classics such as "Somewhere Over the Rainbow" so I guess McCartney wins.

DTC: Talk a little bit about your new band with Dave Swart and what it can be compared to musically?
EWJ: Our new project, which is actually about a year old now, is a band we kind of assembled called the American Rail Council. Describing what we do musically is pretty difficult. We, in the band, all just say it is "Americana" music. There are elements of folk, country, bluegrass, Appalachian music in the songs, but all strained through a very rock and roll filter. Everyone in the band has roots in Kentucky and we consciously wanted to incorporate some elements of our shared musical heritage into the songs. There are lots of vocal harmonies as the band has three very capable singers all of whom can easily sing lead vocals. But don't just take my word for it, go listen to us here:
www.facebook.com/home.php#!/pages/American-Rail-Council/213117108703242

EWJ: What is something about you that would surprise most of your fans?
DTC: I still play basketball and never leave the gym without hitting the last shot from half court. If I never play again I want to be able to say "The last shot I hit was from half court!" Sometimes I make it on the first attempt. I think the worst was 23 shots before I hit it!

DTC: Any live performances for that band planned?
EWJ: There definitely will be as many live shows for the American Rail Council as we can all schedule together and play. Most of us in that group have other projects, as well as work and family commitments, so it is hard to coordinate. I do think once the album is completely finished, we will all very much want to get out and play it live for people. We have played a handful of shows so far to try out the songs, and the reaction has been overwhelmingly positive. I think we all envision playing live regularly in the future, so it is just a matter of finding the right timing, really. In the meantime, there are quite a few videos posted of our live gigs on Youtube.com. Just type American Rail Council in the search box and click away. We are a very "taping friendly" band and always encourage anyone who likes our music to bring their recorders and cameras. We enjoy seeing and hearing the recordings they post as much probably as they do recording them.

EWJ: What advice would you give to the next generation of musicians who want to make a career in this business?
DTC: Today's world is completely different from when I was starting off so I doubt I could be much help. In the old days you crafted your instrument/voice and songwriting, struggled for years hoping and working toward your "big break." Now days a person/band can put a video up on YouTube, somehow get millions of views and get signed to a record deal... All within a few months time!

DTC: Where would you like to see yourself musically/personally in 5 and 10 years?
EWJ: Well, first off, I am hoping the Mayans were wrong with their calendar and the end is not that near for us all.... Assuming the Apocalypse isn't coming, I would first hope to be healthy and able to play music because that is what I love. I hope to be surrounded by people that I love to make music with and that we are all still enjoying the ride. I hope to continue to learn and grow as an audio engineer. I have found that working with other artists in the studio to make their songs as good as they can be often helps me become better at making my own music. I want to be able to keep making music that I enjoy and that hopefully other people will enjoy as well. It's hard to look down the road at your career in this business when you are almost 40. The chances of "that big break" are pretty slim in a business that markets youth and the next "new" thing. Then again, Ronnie James Dio didn't put out his first solo album until he was 41; so anything is possible. If that "big break" never happens, and I am lucky enough to still be here making music in ten years, you'll probably find me on Beale Street in Memphis or somewhere on Decatur Street in New Orleans; just singing the blues.




The Southern Gentlemen Myspace Page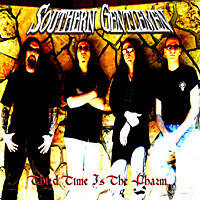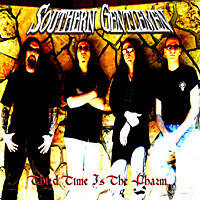 Southern Gentlemen T-shirts and more!