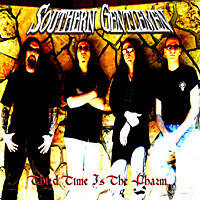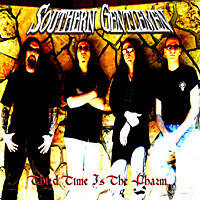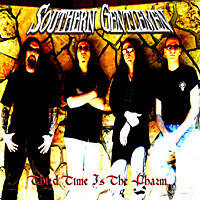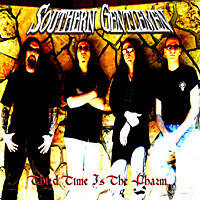 Southern Gentlemen

Third Time Is The Charm

"Third Time Is The Charm" is the new Cd from the heavy blues rock metal band SOUTHERN GENTLEMEN. This release features two new band members in vocalist Eric Johns and bassist Dave Swart. Both are former members of the Cincinnati, Ohio based band Simple Aggression.

Guitarist and band founder David T. Chastain states: "Eric's voice was what I had been searching for the past few years to take the band to the next level. While I was always a fan of Eric's vocals, until he sent me his demo with another band, I didn't know he could do the heavy blues based rock so well. On the demo he did an amazing job on a Janis Joplin track. Not many people, male or female, can do that!" Back playing drums on the new Cd is holdover Mike Haid. Mike has appeared on many of David's Cds going all the way back to 1994's "Next Planet Please." Mike's strong foundation and technical abilities always seem to produce killer drum tracks no matter what the musical format. Mike immediately locked with Dave's powerful bass.

The music on "Third Time Is The Charm" takes the band back to the more structured songs that were featured on their 2000 debut Cd "Exotic Dancer Blues."

David states: "Our second Cd, the 2003 "Double Your Pleasure," had a lot of extended jams. We stretched out during the solo sections and it was a lot of fun. However on the new Cd we wanted a more concise version of the songs to showcase Eric's strong vocals. We are all very happy with the final results."

The band's heavier sound also can be attributed to metal maestro Christian Schmid who mixed and mastered the Cd at the Music Factory in Germany. Christian also worked with David on the latest Chastain band Cd "In An Outrage."

With the release of this new Cd, Southern Gentlemen would like to open the minds and ears of music fans unaccustomed to their style of music. No one else seems to be doing anything original in the genre and David hopes "Third Time Is The Charm" strikes a chord with the masses.

"The music definitely has hard rock, blues and metal influences exploding throughout the tracks. It makes a lethal combination. It is definitely a modernization of some classic music. I think if people will listen to this Cd without preconceived opinions they will really like it. Some of the metal-heads out there are immediately put off by the name and think we are a country band or something! This stuff rocks if you give it half a chance. It is fun music with real singing, not screaming, and without all of the dreariness of most metal. We went for a 'live' vibe in the studio. No overdubs, just drums, bass, one guitar track and vocals. We should sound exactly like the Cd in concert. How many bands now days can say that?"

David continues: "The title pretty much sums it up for me. The first two Cds were really good but on this one, all things considered, we have brewed up the perfect fusion."





Southern Gentlemen T-shirts and more!




The Southern Gentlemen Myspace Page




Alternate version of "Third Time Is The Charm" that is a more traditional rock sounding Cd.
Check it out and lets us know which version you like best!