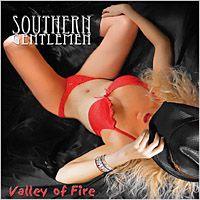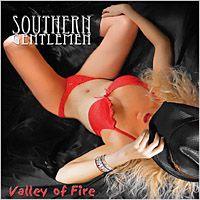 Southern Gentlemen

Valley of Fire Reviews

SOUTHERN GENTLEMEN - "Valley Of Fire"
Leviathan Records
Metal Express Rating: 9.0/10
Release Date: 2008-05-20
by: GEORGE FUSTOS
Email: george(at)metalexpressradio(dot)com
If you haven't heard any of the three previous releases by Southern Gentlemen, the thinking behind the scene might go something like this: "Oh great, another Southern Rock band trying to make a name for themselves and compete with the Allman Brothers Band, ZZ Top, the Outlaws, Gov't Mule, Lynyrd Skynyrd, the Charlie Daniels Band, the Marshall Tucker Band, Molly Hatchet, and countless others." One listen to the new Valley Of Fire release will prove that to be a completely inaccurate conception, all truth be told.
These guys claim that their music is a Hard Rock/Blues/Metal combination, something new to the genre that hasn't been done before. Like that hasn't been said and tried a hundred times before. Well, in all honesty, no holds barred, laying it on the line, these guys from Southern Gentlemen not only talk-the-talk but walk-the-walk, head and shoulders above the rest of the newcomers and wanna be's.

Wow, this album kicks some major ass. It definitely has Hard Rock, Blues, and Metal carefully integrated within each other in such a way that one doesn't overpower the other and take away from the final effort. The band is made up of some very talented musicians: David T. Chastain (band's founder, guitarist on all 4 CD's, original vocalist, record label owner - that helps); Eric Johns (vocalist); Dave Swart (bassist); and Mike Haid (drummer). This line-up was kept intact due to the fact that they really clicked on their 3rd release titled Third Time Is The Charm, and since they all have the necessary Metal background, they wanted the final product to be much heavier with a somewhat "Live" sound to it.
The band seemed blown away by the finished product this time around. What made it so special, or at least contributed to its ultimate sound was the fact that it was mixed and mastered by engineer and Metal maestro Christian Schmid at the Music Factory in Germany. He did the same for the band's last album. The hardest thing perhaps that the band had to overcome was having Eric make a concerted effort to tone down his powerful voice (perfectly suited for Metal and Hard Rock) and keep it sounding "Blues-based" to keep it centered around the band's core beliefs.

The music definitely has Hard Rock, Blues, and Metal influences in varying degrees in just about every track -- in a very lethal combination at that. The opening song and title track "Valley Of Fire" is a killer and heavy as hell. Every track on here is good at eliminating the use of the all so common skip button. The powerhouse rhythm section of Dave's bottom-end and Mike's drumming is the foundation that gives Southern Gentlemen their hard-edged sound, in turn giving them an advantage over other Southern Rock bands trying to make it in today's music scene.
With their 3rd release Southern Gentlemen was hoping to open the minds and ears of music fans unaccustomed to their music. David T. Chastain hoped to strike a chord with the masses since no one else was doing anything original in the genre. If that wasn't accomplished with Third Time Is The Charm, then Valley Of Fire will certainly open the eyes of almost anyone willing to listen to this intense and invigorating release. It doesn't let up from the moment it starts until it ends. After hearing it for the first time, it'll leave an impression without a doubt. Give it a try and don't let the name of the band fool you. In no time at all, you will be looking into the other three releases.

Here's some additional info for the fans:
Band's Official Web site: www.SouthernGentlemen.com
Record Label site: www.LeviathanRecords.com

***********************************************

Brave Words
Southern Gentlemen - Valley of Fire
April 2008

The fourth album from traditional metal commando David T. Chastain's blues rock outfit, Valley Of Fire is Southern Gentlemen's latest beer-soaked romp through familiar classic ZZ Top meets Lynyrd Skynyrd territory (with a stop at Jeff Healey's bar along the way). Miles away from the cold and seemingly clinical approach of the last couple Chastain records, Valley Of Fire is warm and inviting thanks to its simple, bare bones approach, with guitarist David T. and vocalist Eric Johns sharing equal time in the spotlight. Chastain is focused more than ever on vibe rather than flash, kicking things into high gear from the get-go, bringing things to an even burn yet keeping it heavy ('Devil In Me', 'End Of The World', 'Hard Winter'), capping the proceedings off with rawk dawg ditty 'Never Say Never' and blooz outro 'Bitter Harvest'. There are also more hooks on Valley Of Fire compared to last outing, Third Time Is The Charm, making for a no-nonsense non-skip listen. The timing of the album is perfect (and unintentional), with Johns' voice resembling that of David Coverdale more than just a little, giving rise to the thought that fans of Whitesnake's new record Good To Be Bad will find Valley Of Fire to their liking. Particularly if they prefer the soulful down-and-dirty end of the 'Snake.
Carl Begai [8]

***********************************************

Modern Drummer
By Will Romano
March 2009

SOUTHERN GENTLEMEN Valley of Fire
Modern Drummer contributor Mike Haid and guitarist David T. Chastain join forces once again with bassist Dave Swart and singer Eric Johns (think Chris Cornell meets David Coverdale) on this old-school, blues-informed (sometimes tongue-in-cheek) hard-rocking outing. Haid's uncluttered performances and spotless time-keeping serves these riff-driven, often suggestive Whitesnake-esque tracks. (www.leviathanrecords.com)

***********************************************

www.thecutting-edge.net
by Todd Smith
SOUTHERN GENTLEMEN
Valley of Fire
Leviathan Records

Southern blues-rock outfit led by '80s metal god David T. Chastain enters its fourth incarnation with the blistering Valley of Fire. Stirring up a mixture of Savoy Brown, early-Whitesnake and even a hint of Dio-era Rainbow the disc welts up a feisty combination of blues metal and technical guitar wizardry. Over the past 25-years Chastain has become a giant among guitarists, known as a proficient and melodic player. His band's CJSS and Chastain are among metal's legendary icons so it is no wonder that since moving to Atlanta he has cultivated a taste for the local cuisine. As expected his fret work is flawless, turning out dirty, meaty hooks in "Devil in Me," "Hard Winter" and the stripper-themed "Whiplash Girl." As with Southern Gentlemen's past releases, this ain't no cotton fields and delta twang, it's straight up hard rock with a southern flare - think Trixter, Dangerous Toys, Spread Eagle and Salty Dog - with enough Aerosmith to keep it authentic.

Bassist Dave Swart and drummer Mike Haid lock horns in an escalating dust storm of rough and tumble fury. They gallop along through the twisting "Snake Flower" and put the thunder in "Dropping Anchor. " It's tricky business finding room around Chastain's swagger but these guys locate the open slots and give the songs that added push where needed. Truly one of the greatest pairings Chastain has orchestrated is the combined talent of vocalist Eric Johns and the shred king himself. For the first time working as songwriting partners, the two dice up some hefty stunners including the title track "Valley of Fire," "The Sky Is Falling" and the grinding "Trouble on the Road." Johns' lyrics give away his influences embracing all the classics yet his own growl gives the tracks plenty of bite. Two monsters are essential listening "End of the World" and "Bitter Harvest." Both are cut in the same mold as Rainbow/Deep Purple with broad, sweeping vocals, emotional playing and charismatic crescendos. Now, who says rock is dead?

*********************************************** ***********************************************

Metal Core
SOUTHERN GENTLEMEN/Valley Of Fire (Leviathan Records) Holy hell is this one hell of a release. This band mixes up the best of 70's style rock and mix it with some metal and the combo is just so godly I was grinning from ear to ear. Dave Chastain has never sounded better and the riffs and guitar tone he has on this is unmatched. The singer, Eric, has such a fantastic voice and he sings the songs with soul and passion not matched by many. The production is right where it needs to be and I can't say anything negative about this and it I can easily say would be in my top 10 at the end of the year and we aren't even 6 months into 2008. A MUST BUY. Incredible songs, singing, etc. This is easily the complete package of metal and rock. Info:__www.leviathanrecords.com

***********************************************

Southern Gentlemen - Valley of Fire

Country: USA Genre: Hard Rock/AOR
Southern Gentlemen's main draw is the inclusion of guitar wizard David T. Chastain. Chastain is best known for his instrumental solo albums (David T. Chastain), his female fronted power metal band (Chastain), and for his underrated label (Leviathan Records). While Chastain brings a rocking blues guitar sound to Southern Gentlemen, one must not underestimate the vocal prowess of Eric Johns or the tight rhythm section of bassist Dave Swart and drummer Mike Haid. The band has issued three albums; Double Your Pleasure, Exotic Dancer Blues, and Third Time is the Charm, and they continue to get better with each album.

I love how Valley of Fire starts out. The first thing you hear is not Chastain's shredding guitar, it's the vocals of Johns. His ability to conjure emotion makes songs like "The Sky is Falling" and "Trouble on the Road" special. To help augment Johns' talent, Chastain plays simple, but somehow fresh riffs. "Devil in Me" and "Snake Flower" are studies in simplicity. The tempos rarely stray but changes do occur on the fast "Whiplash Girl" and the power ballad "Bitter Harvest."

Just when I thought Southern Gentlemen was due for a mediocre album, they deliver their best yet.

Album Score: 8 out of 10
Reviewed by: Brett VanPut
Transcending the Mundane

***********************************************

Guitar9.com
Incorporating Hard Rock, Blues and Metal into the Southern Gentlemen sound - sound that is growing in acceptance and appreciation for its uniqueness in today's scene.

***********************************************

AMAZON.COM
Valley Of Fire!!!, May 25, 2008
Any Album By This Band Is Awesome !!! This Is Their Fourth C.D. And This Cd Rocks !!!

***********************************************

Southern Gentlemen: Valley of Fire

This is not what one might expect... another dose of Southern rock inspired by Skynrd. In fact this band, especially the lead singer, have far more in common with Dio than anything to emerge from South of the Mason-Dixon line. I mean this as no criticism. How can you when you have such prime Dio-esque rock as "End of the World" and "Bitter Harvest". There is even a hint of bluesy Whitesnake before the band turned into MTV monsters; but the voice is pure Ronnie James Dio.

This is very good blues rock and avoids the now clichˇ sludge rock that has been invading the Southern music sphere. The band includes Dave T. Chastain, a man better known for his guitar shredding abilities via his solo material, ala Steve Vai, than someone in a band setting. This is the same line-up that recorded their previous effort, which saw quite a bit of their material appear during various TV programs.

This CD was quite a find and I have enjoyed it in its entirety. One to seek out and seriously enjoy. It's always nice to make this kind of discovery for someone like me; who thinks he has heard it all.

Written by Marty Dodge
Published August 14, 2008
Part of Marty's Musical Meltdown

***********************************************

Heavy Harmonies
Very good CD 83/100.
HEAVY BLUES at it's best. THEIR 4TH CD and the second with the great ERIC JOHNS on vocals ! VALLEY OF FIRE/TROUBLE ON THE ROAD/WHIPLASH GIRL/END OF THE WORLD/BITTER HARVEST are the best tracks with huge raspy vocals and trademark CHASTAIN's smoking solos, buy if you like BLUES with a good dose of HEAVY ROCK in it.

***********************************************

RC Reader
John James
Southern Gentleman - Valley of Fire (Leviathan) desert-road rock from commanding vocalist Eric Johns and shredder David T. Chastain.

***********************************************



Note: In order to purchase a song, album or audiobook on iTunes, you must have downloaded the iTunes software, which is available for free for PC or Mac. If you have not yet done so, click the link and downloading instructions will follow.



The Southern Gentlemen Myspace Page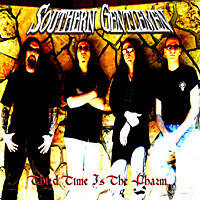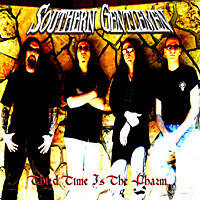 Southern Gentlemen T-shirts and more!